"I think many of us have had the experience of a stab of joy and longing when looking at nature; I certainly have and I'm trying to recapture those moments in my paintings... the ever-changing subject is the great challenge of landscape painting."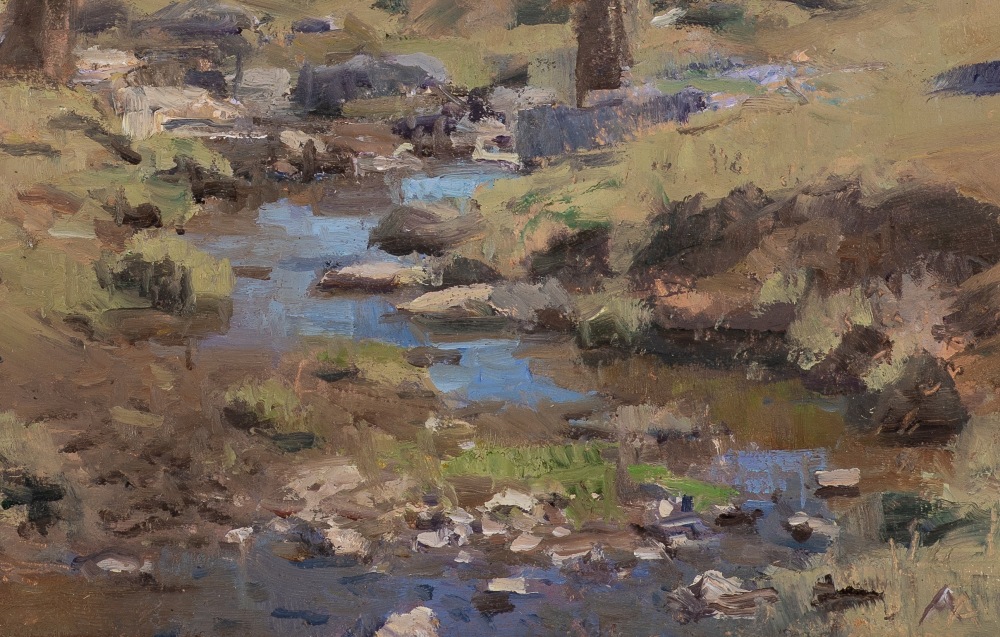 "When painting outdoors I feel a manic urgency to absorb as much information as I can as quickly as possible — a kind of hyper-concentration — and I suppose this results in a kind of vitality in the painting.
In the studio, freshness is not a big priority for me. I think of plein air paintings as having the 'freshness of youth' while studio paintings can have a more mature kind of beauty born from slow consideration."
- Ann Lofquist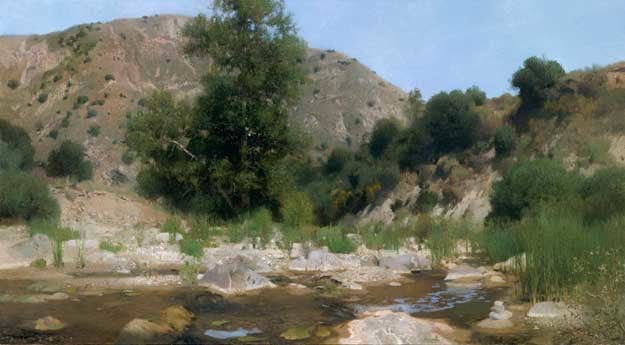 July Streambed, 32" x 58", Oil On Canvas
New England painter Ann Lofquist continues her exploration of the pastoral American landscape in a new series of large canvases. New England Life documents the very real relationship between contemporary reality and those seemingly mythical settings depicted in famous 19th-century plein air paintings by George Innes and others.
The difference made by 150 years is subtle but telling. Lofquist's fluid brushstroke depicts many of the same rivers, streams and country settings that Innes painted (most are near Lofquist's home in Brunswick, Maine). But Lofquist's skein of paint and omniscient viewpoint comes from abstract and action painting, and her serene settings seem believable, yet somehow unattainable. in the 21st century. More surprising, Lofquist's scenes occasionally include a solitary person, small in scale and unobtrusively sitting or standing amidst the motif. These figures are so quiet and camouflaged they become yet another element in the complex pattern of trees, rocks and hillsides depicted.
In the quietude of these scenes, one senses that nature's force has briefly paused. Lofquist's depiction of calm detachment and remove from everyday cares revives and revises the American romantic tradition which seeks spiritual connection and solace from nature.
Lofquist's painterly approach remains traditional and painstaking. She initially paints small canvases directly on-site. These plein air studies inspire Lofquist's large studio paintings without benefit of windows for the rural vistas she details. Lofquist uses detail to describe the setting, with its specific season, mood, weather, and time of day.
In Snow over Brunswick, for example, the frozen atmosphere and remote beauty are so refined one can almost feel the bitter cold of a Northeast winter. A small Maine village nestles amidst snow-covered trees, eliciting an emotional response in the viewer through a shared folklore. For Lofquist, "these encounters with nature... strive to capture the immediacy and poignancy of the moment of discovery."
Ann Lofquist, received her Masters of Fine Arts degree from Indiana University in 1990. She has received many fellowships and awards and was included in a major review of contemporary landscape painters, The Artist and the American Landscape, by John Driscoll.