"When there is no sun, I have always sought the silver lining, or the bright spot hidden in a bank of clouds."
- Elaine Lisle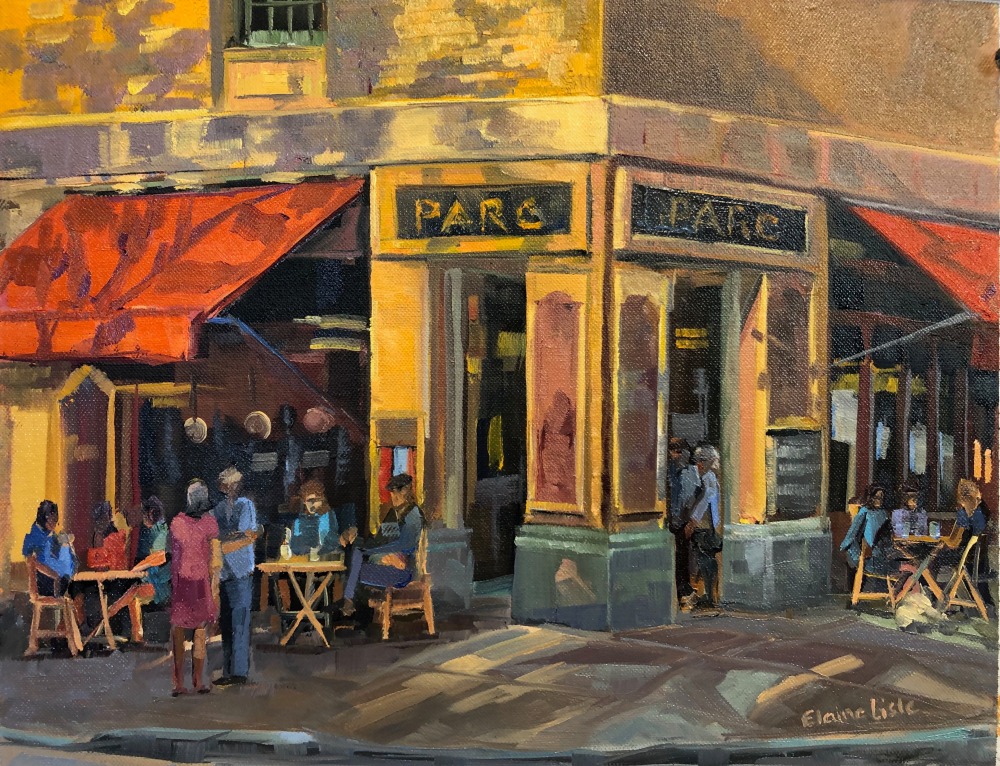 I have been painting throughout my entire life, professionally since 1994. I studied at the University of Pennsylvania where I was greatly influenced by the work of Neil Welliver who was the Fine Arts Dept head at the time. I was mesmerized by the way he took an intricate landscape and broke it down into shapes of color. I went on to study painting at the Pennsylvania Academy of Fine Arts where I continued to focus on capturing the urban landscape. I wanted to follow in the footsteps of Hopper, Sloan and Bellows of the Ashcan School and have spent many years painting Philadelphia neighborhoods. Additionally, I have found the Schuylkill river to be a huge source of inspiration.
While I presently live and work in the Philadelphia area, my travels continue to give me much inspiration. I've enjoyed painting in France and Ireland, and having grown up in New England am partial to the woods and fall colors as well as the Maine landscape. More recently, I have discovered the mid-Atlantic seascapes of the eastern shore. Producing art is a journey in itself, as I never know when I begin a painting where it will take me.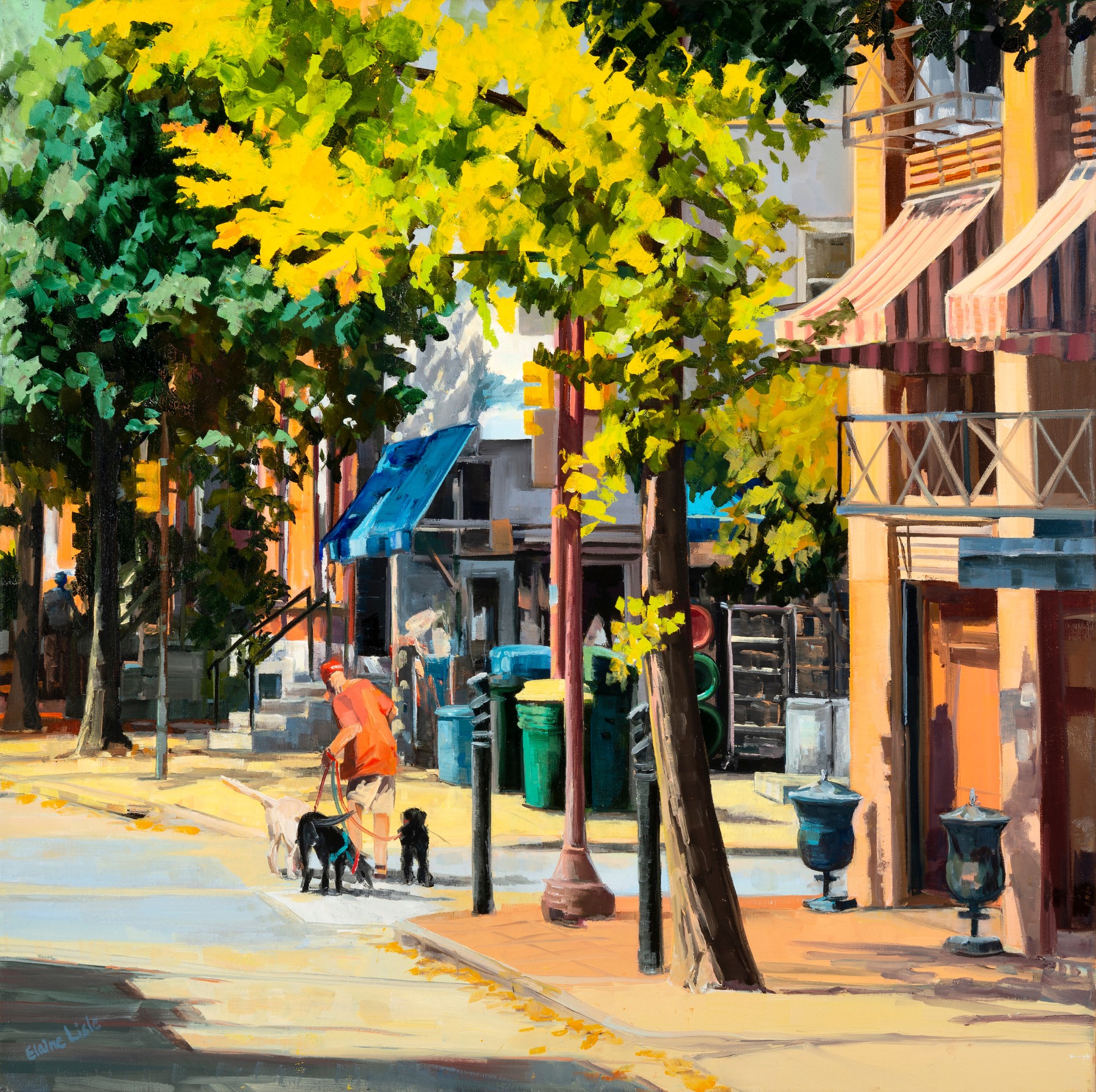 My paintings express the feeling of awe that I have when encountering a landscape, and it is exciting for me to take an ordinary scene and make it extraordinary. I love the long shadows of a late afternoon and I enjoy creating complex compositions where the viewer has much to contemplate.
My work is more likely to be joyous, energetic and vibrant vs. gentle or brooding. I work only in oil and my palette tends to feature bright warm colors and high contrast. When I create a composition, I look for the surprise; whether it be a statement made by a lone figure, a spot of orange found in an otherwise green wood, or the unusual lavender reflection found on a river at dusk.
I love painting en plein air (outdoors from life), as well as completing larger works in the studio from on-site studies, reference sketches, and photographs. With commissioned works I generally complete more than one on-site sketch and often use reference photographs as well.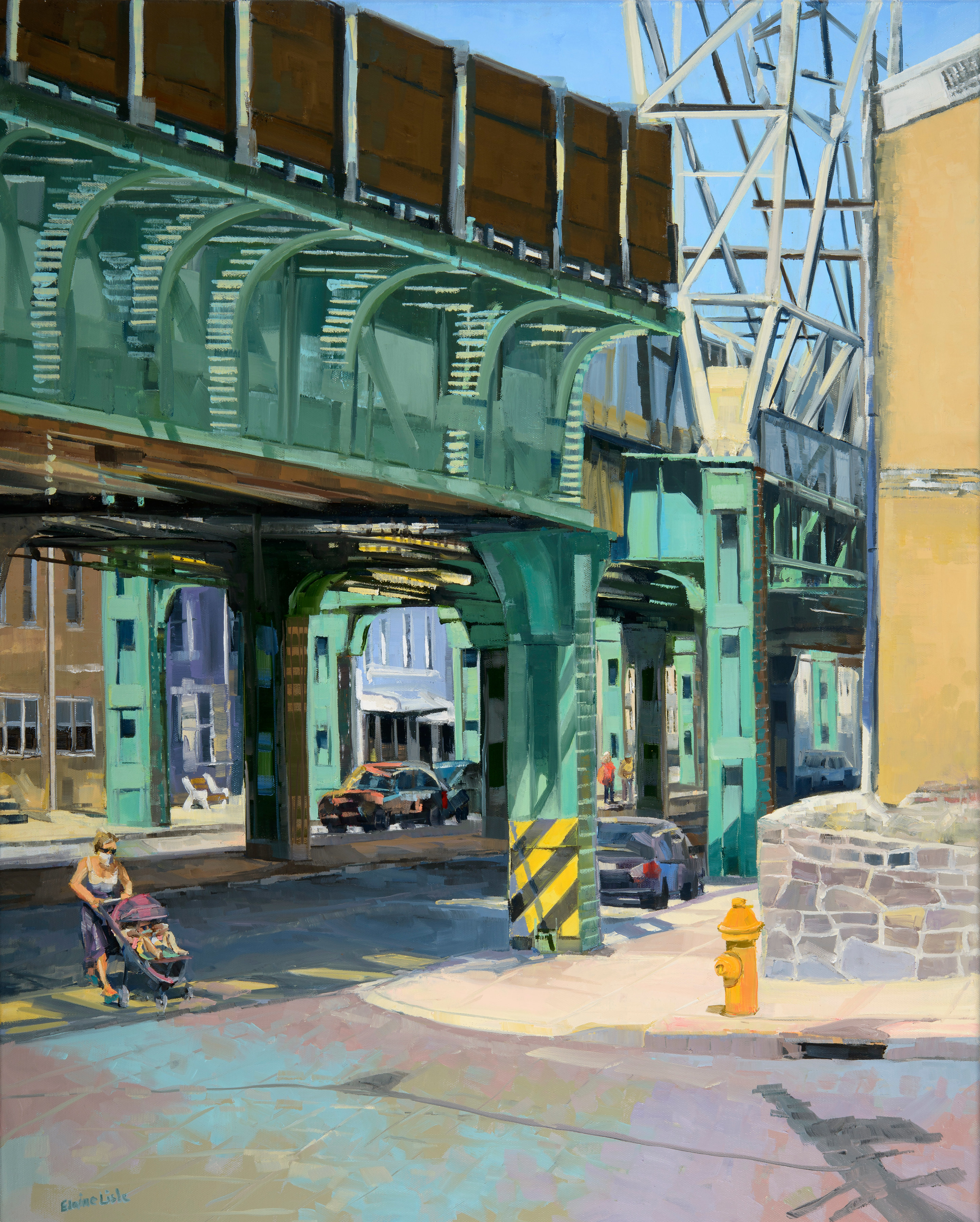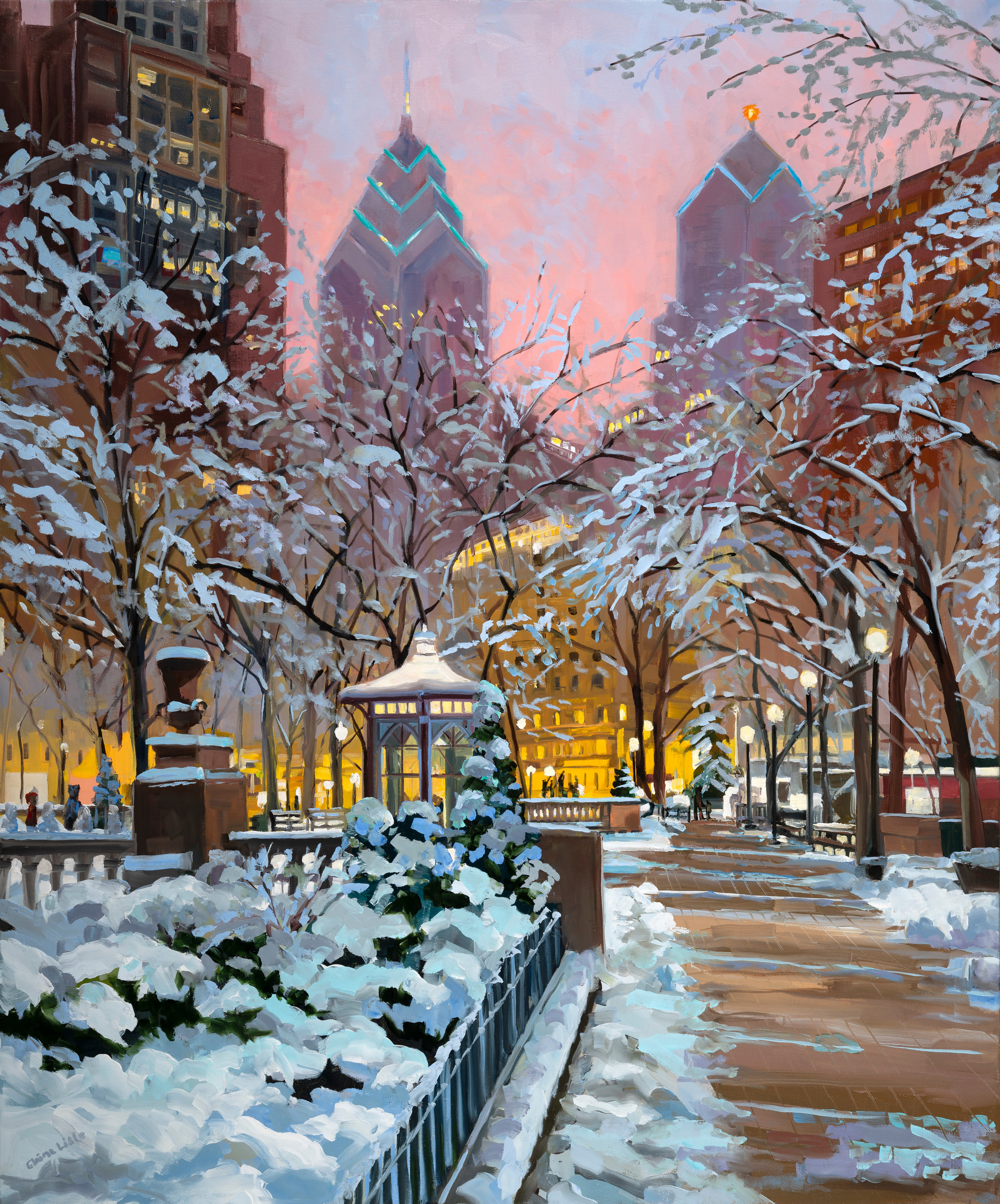 Elaine Lisle's Urban Landscapes
by Nancy Bea Miller
For many years, the urban landscape paintings of Elaine Moynihan Lisle (b. 1954) have gloried unabashedly in bright summer days. Using bold colors and lively brushwork, the artist has infused energy into her world of flowerbeds and leafy trees contrasting with red bricks, colorful awnings, and the pure blue skies soaring above them. "It has been hard for me to paint a rainy or cloudy day," Lisle explains. "When there is no sun, I have always sought the silver lining, or the bright spot hidden in a bank of clouds."
Lately, however, Lisle has been focusing on other seasons and times of day. Her family weathered two tragedies in the past year: her mother lost a difficult battle with ALS, and then a beloved sister-in-law died at a relatively young age. These experiences have inevitably influenced Lisle and her art...