"Working from nature is full of opportunities and gifts. At some moments the spots of color can even seem to float in mid air creating an all-over abstraction, or the light shifts to reveal a new pattern among the trees - everything contributing to the process of making a painting."
-Kurt Moyer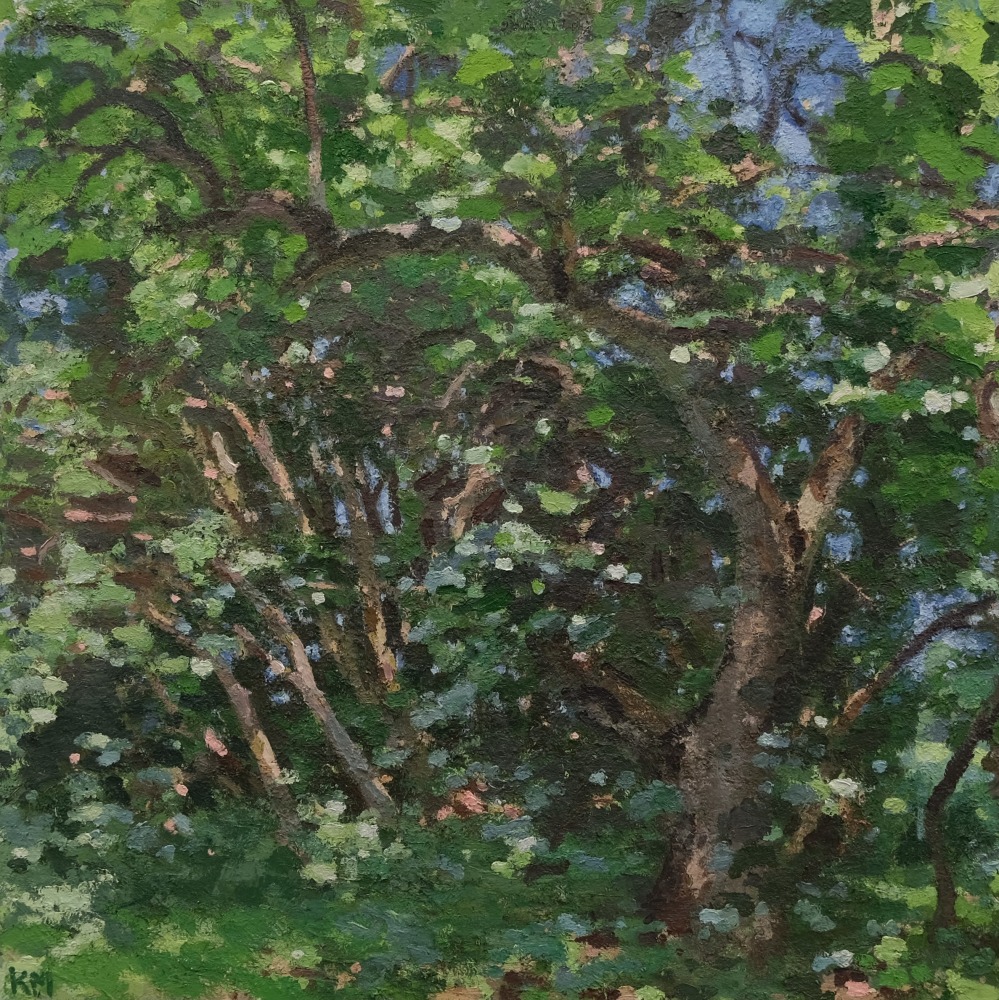 Kurt Moyer's oil paintings explore his primal and personal connection to the forest. The artist grew up near French Creek State Park, a woodland of over seven thousand acres. It was a special place that he explored and where he would let his mind wander. Years later, this connection with nature continues to be the focus in Moyer's painting. Spending time with the artist's work is akin to taking a leisurely walk through the woods. By slowing down and stopping in front of each painting, the viewer begins to notice what is normally overlooked - the space opens, depth emerges, and more is revealed. The canvases vibrate with the tension of the seen and sensed; the felt and the observed. When bathers appear in the paintings, they celebrate the connection between us and nature; a primal and perpetual connection which endures regardless of time or trend.
The canvases, some large, some modest in scale, are both immersive and receptive. Moyer creates inhabitable spaces and the energy of his brushwork reminds us of the flickering light of the sun as it finds its way through the dense forest canopy. At the same time, the viewer is aware of the artist's hand as the focus shifts between the image depicted and the beauty of the paint surface.
Kurt Moyer is from Southeastern Pennsylvania and a graduate of Kutztown University. He now resides in Pittsford, NY.
"Today I go into the forest looking for the kind of beauty that floods my senses."
- Kurt Moyer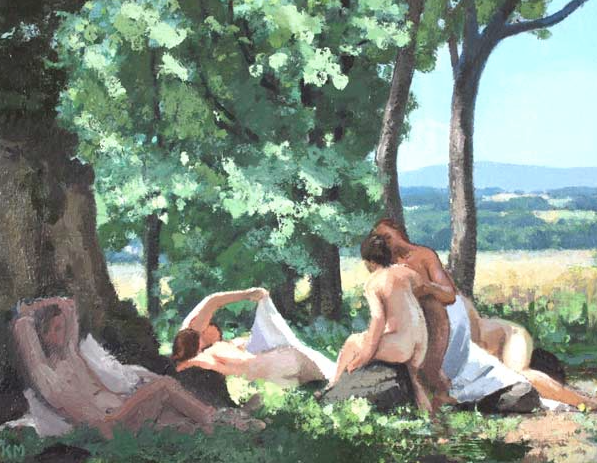 Larry Groff Interview with Kurt Moyer
2015
I am looking forward to meeting Kurt Moyer in July and August of this summer at the JSS in Civita in Civita Castellana, Italy where he is teaching an affiliate workshop. I am grateful to him for taking the time to have this email interview with me about his painting. Moyer lives and works in Rochester, NY and is represented by the The Gross McCleaf Gallery in Philadelphia and the Warm Springs Gallery in Charlottesville, VA. He has shown in the Kentucky Museum of Art and Craft, Allentown Art Museum, Pennsylvania State Museum, Penn State University, and the Phillips Museum at Franklin and Marshall College among others. Moyer will be having a solo-show at the Gross McCleaf Gallery in January 2016 and will also be featured in a "Landscape" show there July 2015.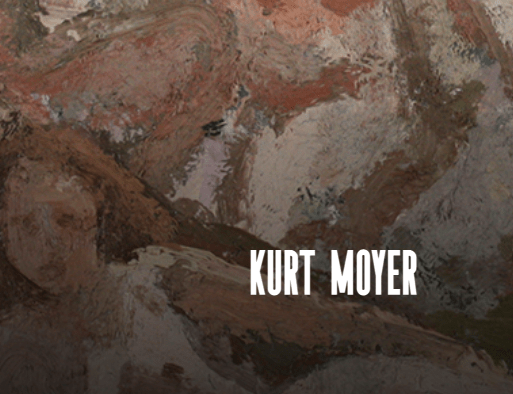 by Antrese Wood
Kurt Moyer is a landscape painter living in upstate New York. He pulls inspiration from nature, and from studying the master paintings that came before us.
As Kurt will tell you, some mysteries in painting don't need to be solved in order to have a full, rich experience with them. Kurt is content to let some of that be so that he can focus on light, color, and the thread that weaves through his work and ties all the way back to Cezzane, Balthus, George Sorrells, and many other artists.
In this episode Kurt and I talk about seeing. About getting that authentic impression of color and light and not being a slave to your own eyes. We also talk about how new experiences or simply time can completely change the way you look at paintings that maybe you have seen many times before.