"My working methods take cues from the principles of flow and chance found in natural processes of water, geology, and weather. At the same time, my paintings are images of those lands... water-sculpted places from the Mississippi River to Cape May beaches, and Scottish Highlands to Pennsylvania Waterfalls."
- Thomas Paquette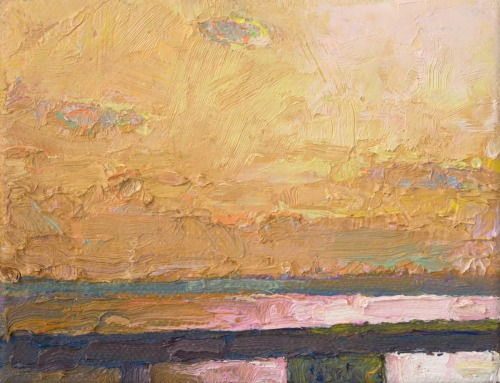 My only scholarly diversion from studying art in college and graduate school was when I studied to be a naturalist. Nature continues to be my teacher as well as my enduring painting subject because it astonishes me daily.
Everything from the momentary whims of weather to the massive yet imperceptible motion of continents serves as mentor and guide as I build up and scrape off layers of color to get at something more vital and essential about my subject than a superficial rendering would reveal. And just like the timeless work of nature, it doesn't matter how long this process takes. It is only important that the painting evolves into a living talisman of the place that inspired it.
The vitality of the subject is held in the paint, and it may take several years of creation, destruction, and re-creation to best capture that, like a cut in a hillside tells the Earth's dynamic tale. My studio has a good stash of interesting rocks collected during travels to remind me of this.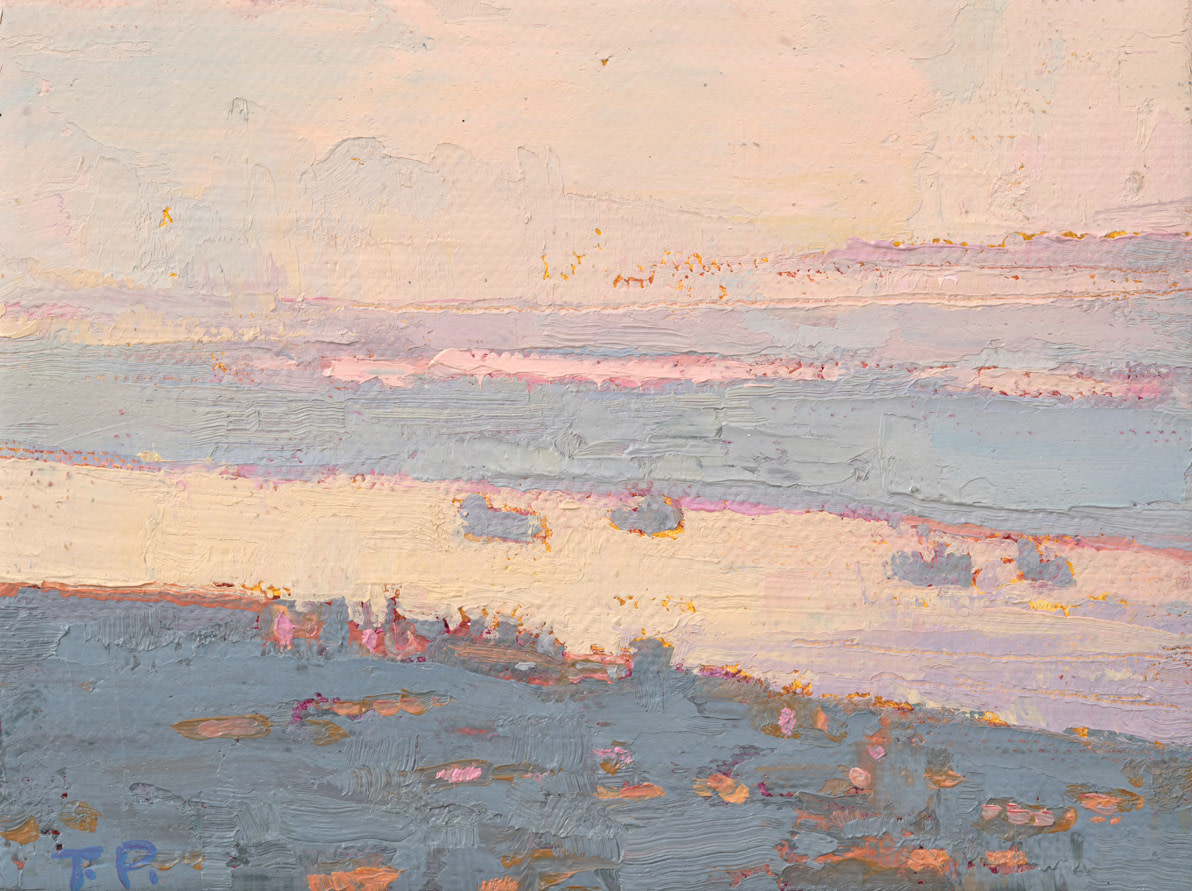 Pennsylvanian Thomas Paquette has been a full-time artist for over thirty years. Raised in Minneapolis, he dropped out of art school in his first year, intent on seeing the wider world up close. On and off for seven years, he explored the landscape in an unusual way, wandering around by hopping on freight trains carrying him on long journeys to the edges of the continent. He worked as a welder during some of that time and as a naturalist at others, before returning to college to earn a BFA in Painting at Bemidji State University, where he graduated summa cum laude. He completed his MFA in Painting on a full fellowship from Southern Illinois University at Edwardsville in 1988, and has been a full-time painter ever since then.
Following formal studies, Paquette was awarded a three-year residency- fellowship in Miami Beach by the National Foundation for Advancement in the Arts. Subsequent residencies include American Academy in Rome, Aegean Arts and Cultural Exchange, Millay Colony, Blue Mountain Center, and Acadia, Yosemite, and Rocky Mountain national parks.
Onoko
54" x 38"
Oil On Canvas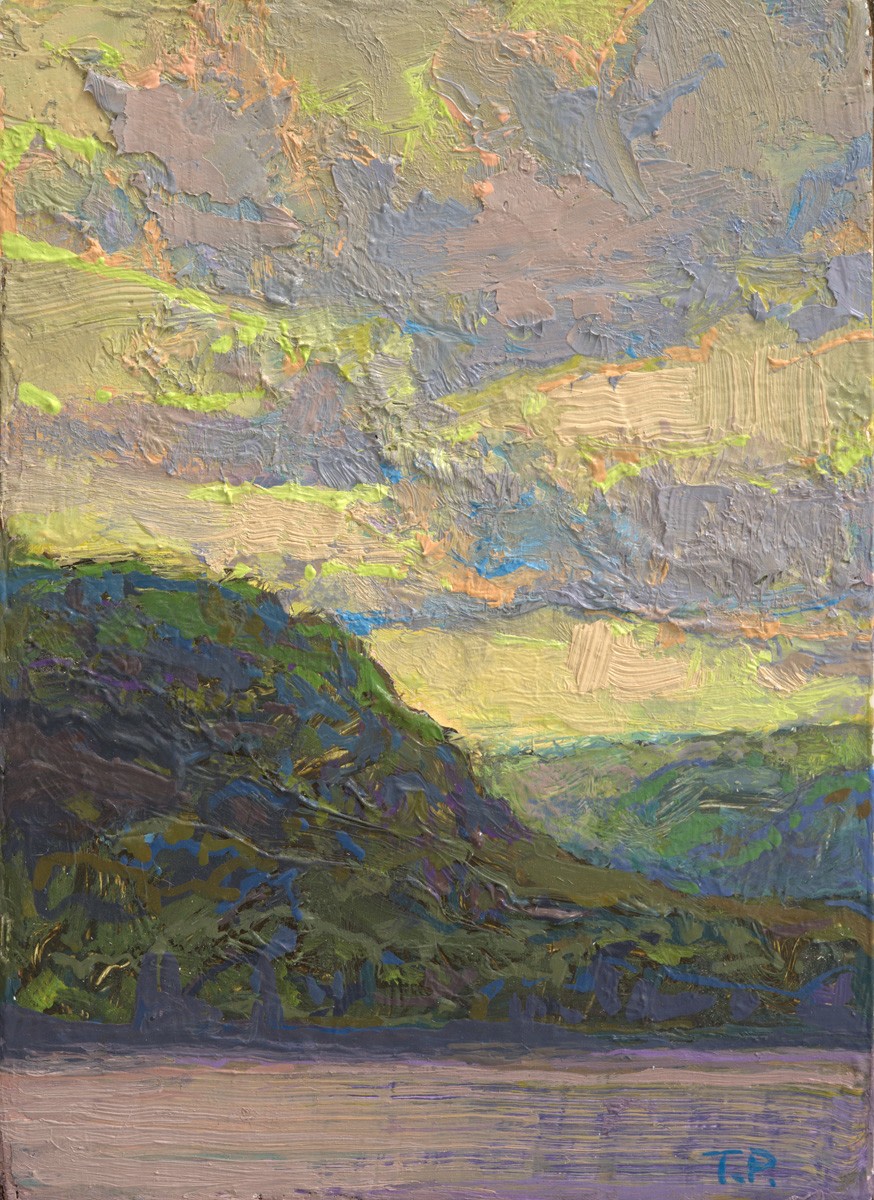 His paintings have been featured in more than sixty solo exhibitions in museums and prominent galleries in New York City, Chicago, Philadelphia, Minneapolis, Washington, DC, and elsewhere. On Nature's Terms, a 70- painting solo exhibition, traveled in 2014-15 to art museums in California, New York and Indiana: Wildling Art Museum, St. Bonaventure Quick Center for the Arts, and Evansville Museum of Art.
Another traveling solo exhibition titled America's River Re-Explored: Paintings of the Mississippi from Source to Gulf was mounted at three museums in 2018-19: Minnesota Marine Art Museum, Watermark Art Center, and Dubuque Museum of Art. Other independent solo museum exhibitions of Paquette's paintings were mounted at Erie Art Museum, Georgia Museum of Art, The Rockwell Museum, and Westmoreland Museum of American Art.
Forty of his paintings have been selected to hang in nineteen U.S. embassies on five continents, including in the cities of Rome, Brussels (NATO permanent collection), Athens, Vienna, St. Petersburg, Moscow, Taipei, and Santiago. His works are included in numerous private, corporate, museum and state collections, and he has given talks at museums and universities in the U.S., and in Greece, Wales, and England.
Paquette completed several commissions for public and private entities, the largest of which were pieces for the state of Minnesota (one at 32 feet in length, and another at 11 feet) and the Federal Reserve Bank of Minneapolis (a cycle of four works measuring 7- by 6-feet each).
He currently lives on the edge of the Allegheny National Forest in northwestern Pennsylvania.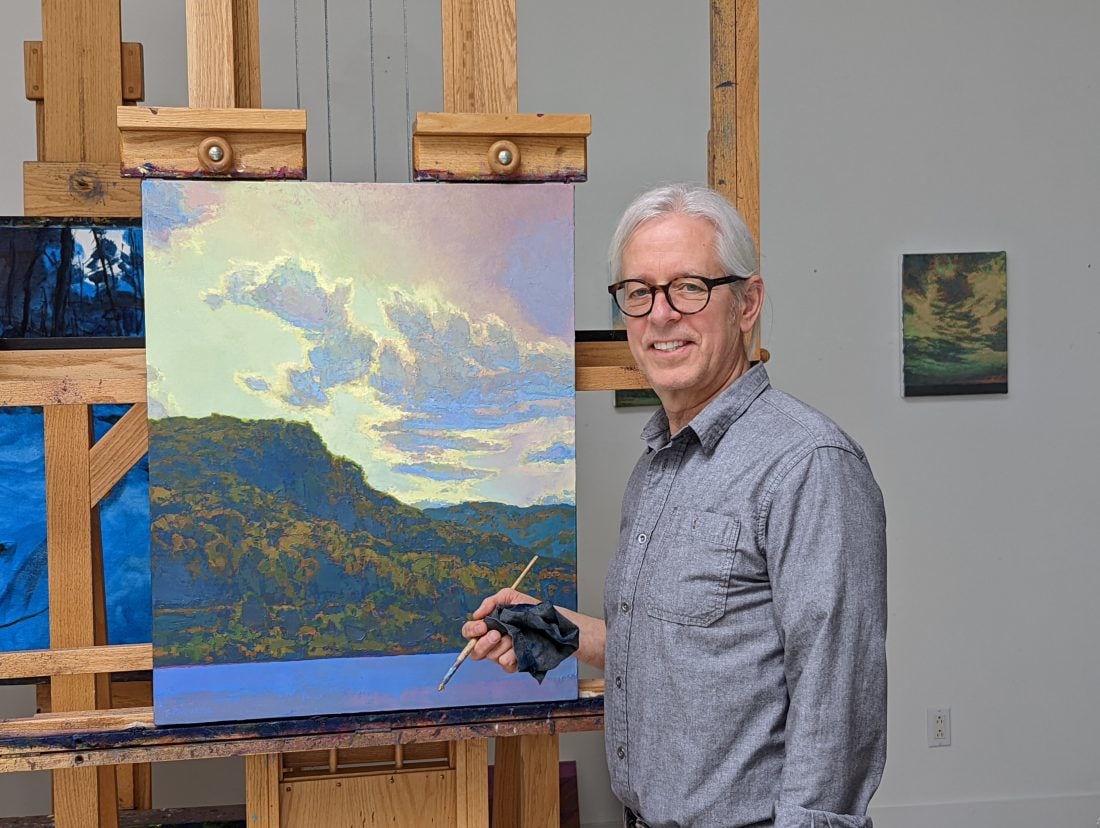 Artist Has Painting Selected For Display At US Embassy In Canada
Times Observer
A local artist has had another painting selected to be on display at a decidedly international location.
Thomas Paquette's "Onoko" has been borrowed by the U.S. Department of State where it will be displayed at the U.S. embassy in Ottawa, Canada. The painting, oil on linen and 54 by 38 inches, will be displayed in the public embassy of the area for three years.
Paquette explained that the painting provides a view of a now-inaccessible waterfall in eastern Pennsylvania, Glen Onoko Falls.
Just days after his visit to paint the falls, public access to it was suddenly and permanently closed due to safety concerns.
This honor in Ottawa is one in a long line of similar recognitions. His work has been displayed at 21 embassies from places as varied as Santiago, Moscow, Taipei and N'Djamena in Chad...