"I find the language of dreams fascinating because as we sleep our minds invent connections that are unexpected, brilliantly insightful, and often humorous."
- Alexandra Tyng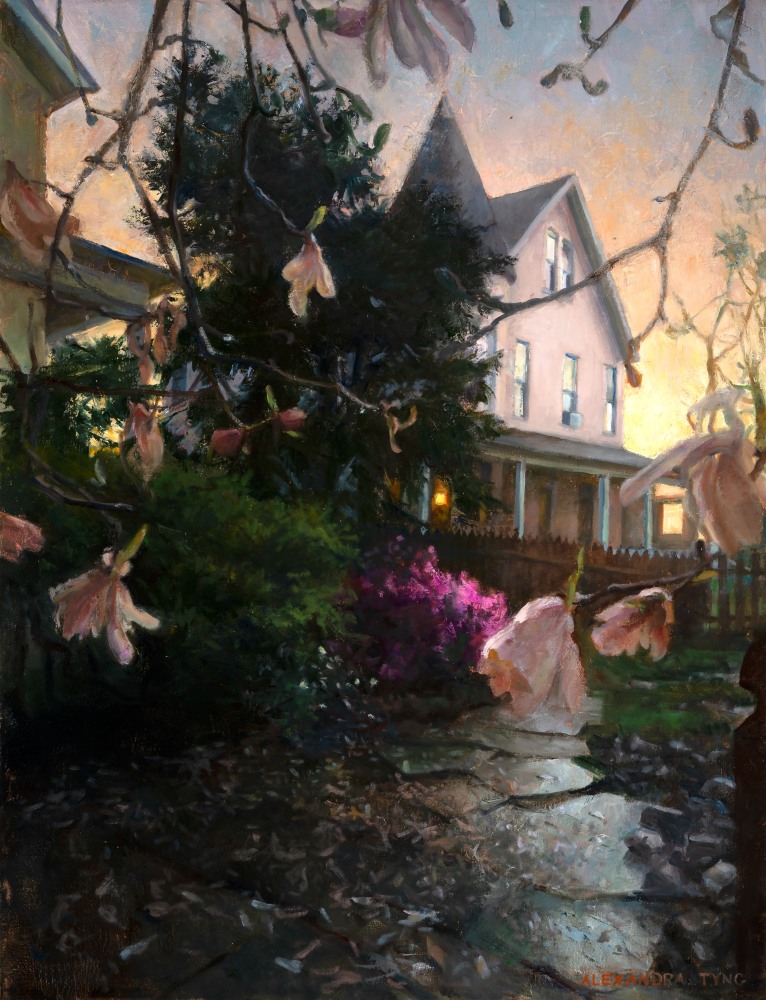 A viewer is swept into a cinematic world of mystery in Alexandra Tyng's new exhibition at Gross McCleaf, The Architecture of Connection. Well known for her portrait painting, Tyng is also a skilled interpreter of visual narratives related to mythology and dreams. Utilizing the same technical proficiency as in her portraits, Tyng captivates and intrigues with these more complex paintings. Her perspectival lines place the viewer within the composition, and illusive, yet familiar, worlds begin to unfold.
Tyng spends a great deal of time with each painting, articulating intricate details and rich lighting effects with her distinct painted mark. She is a careful observer and reliable narrator of natural settings and the human figure. Many of her works borrow from the tropes of Greek and Roman mythology. For example, in Tyng's painting, The Shadow of Abundance, the main character, reminiscent of Botticelli's Flora, lounges in the mid-ground among fruits and flowers. The setting is a mystical woodland and the central figure is accompanied by an expressly contemporary flutist and a mischievous Cupid.
Tyngs' narratives take unexpected twists and turns, denying the stability the artist provides with her recognizable painted information. Even in the more straight-forward works, a sense of mystery and the unexpected is present in a tangled nest of wild forest trees or a backdrop that delivers a shaky epilogue. In the end, Tyng takes us on an immersive journey to a believable reality that is steeped in the realms of mythology, the subconscious, and the unknown.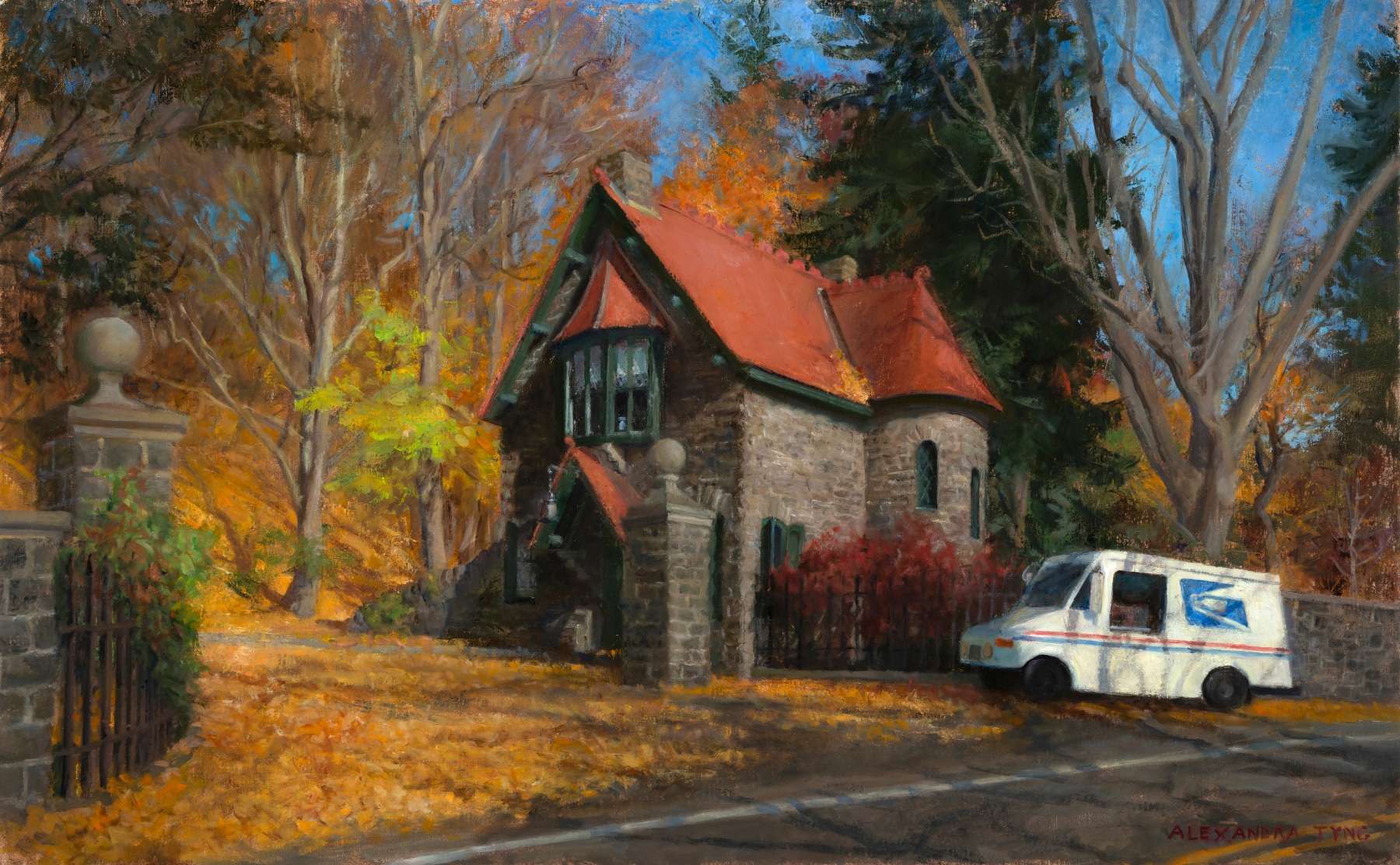 Born in Rome, Alexandra Tyng is a graduate of Harvard University, where she received her BFA and the University of Pennsylvania for her MS in Education. She is a long-time resident of Philadelphia. Her figure and landscape paintings have received numerous national awards and have been featured in major art publications.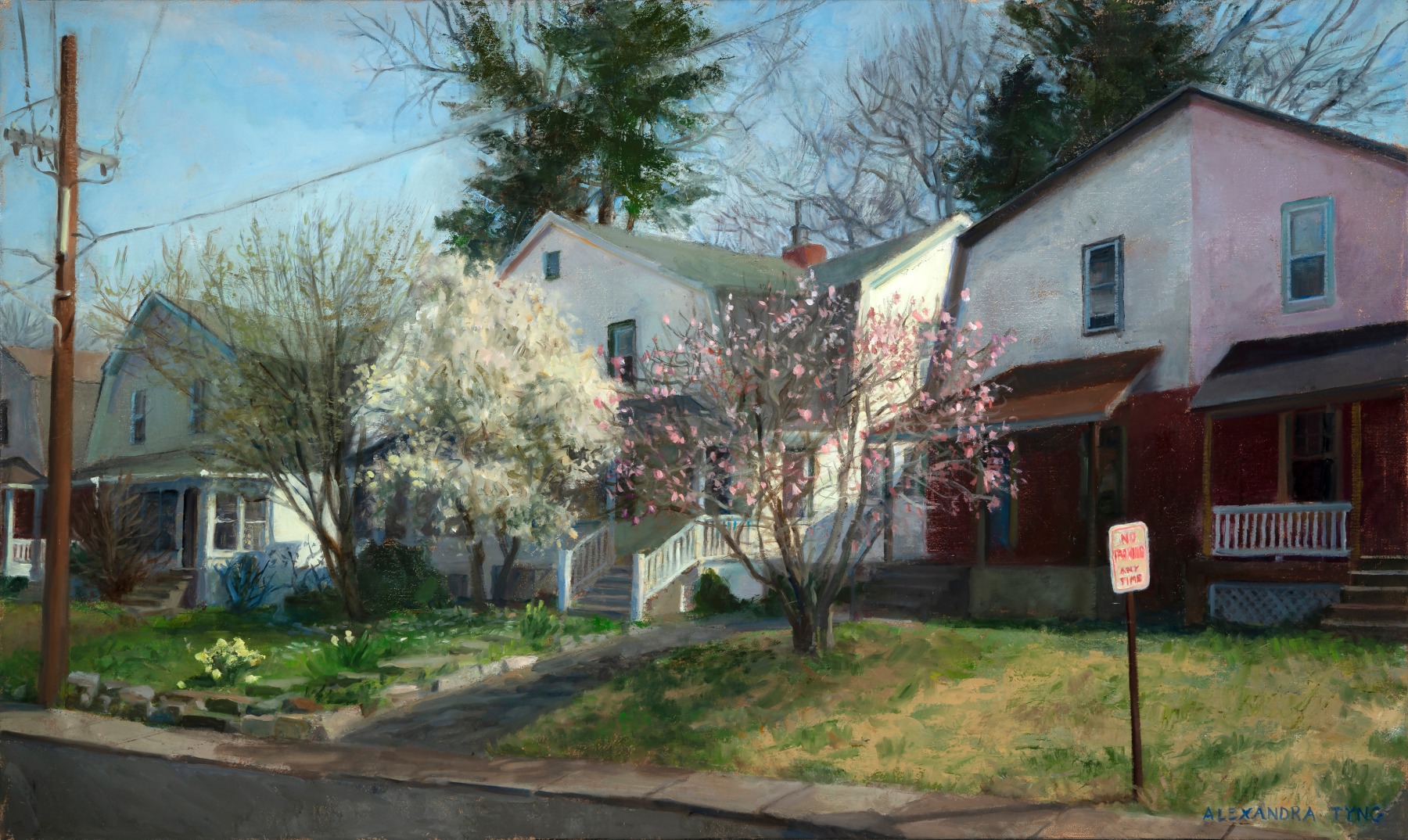 Alex's paintings reside in the permanent collections of several U.S. museums including the National Portrait Gallery in Washington D.C., the New Britain Museum, and the Springfield Art Museum; and others have been shown at the Butler Institute of American Art, Lightner Museum, Woodmere Art Museum in Philadelphia, and Customs House Museum in Clarkesville, TN.
Her painting Jet Streams was chosen by authors David and Carl Little for the front cover of their recent book, Art of Acadia. Alexandra is represented by Dowling Walsh Gallery in Rockland, ME; gWatson Gallery in Stonington, ME, and Gross McCleaf Gallery. This is Tyng's second solo exhibition with Gross McCleaf.