"Observational paintings are expansive... they're big enough to encapsulate the complexities and contradictions of lived experience."
- Caleb Stoltzfus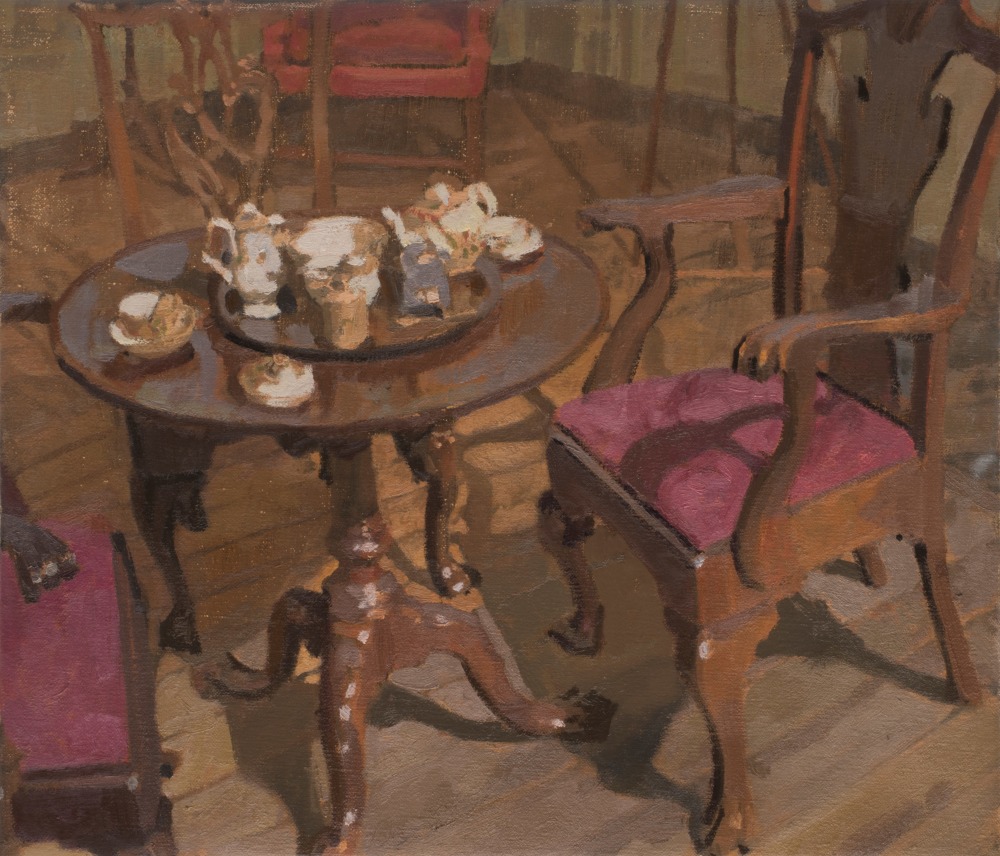 In Signs of Life, Caleb Stoltzfus' grouping of representational oil paintings create unexpected and mysterious narratives set within rural, suburban, and urban landscapes and interiors. His chosen imagery lacks the literal depiction of human forms, yet evidence of life abounds through his intentional placement of tools, clothing, structures, and piles of discarded items that have ostensibly been touched or at some point inhabited by humans.
Stoltzfus' scenes give the impression of some unidentified action having freshly taken place, perhaps moments before viewers 'arrive'. There is an implied invitation to investigate the meaning of what is being observed, the objects individually, how they arrived at their current orientations, and what can be inferred about their former or remaining utility and purpose. On a playful note, the search for narrative information is at times thwarted due to the artist's penchant for stagecraft, and sometimes purposeful misdirection.
Each painting in Signs of Life hums with underlying drama and mystery. As an accomplished plein air and studio painter, Stoltzfus' skillfully executed paintings put him in dialogue with other regional realists such as Andrew Wyeth and his sister Ann Wyeth McCoy. The believable pictures offer both complex and minute details for endless contemplation and appreciation.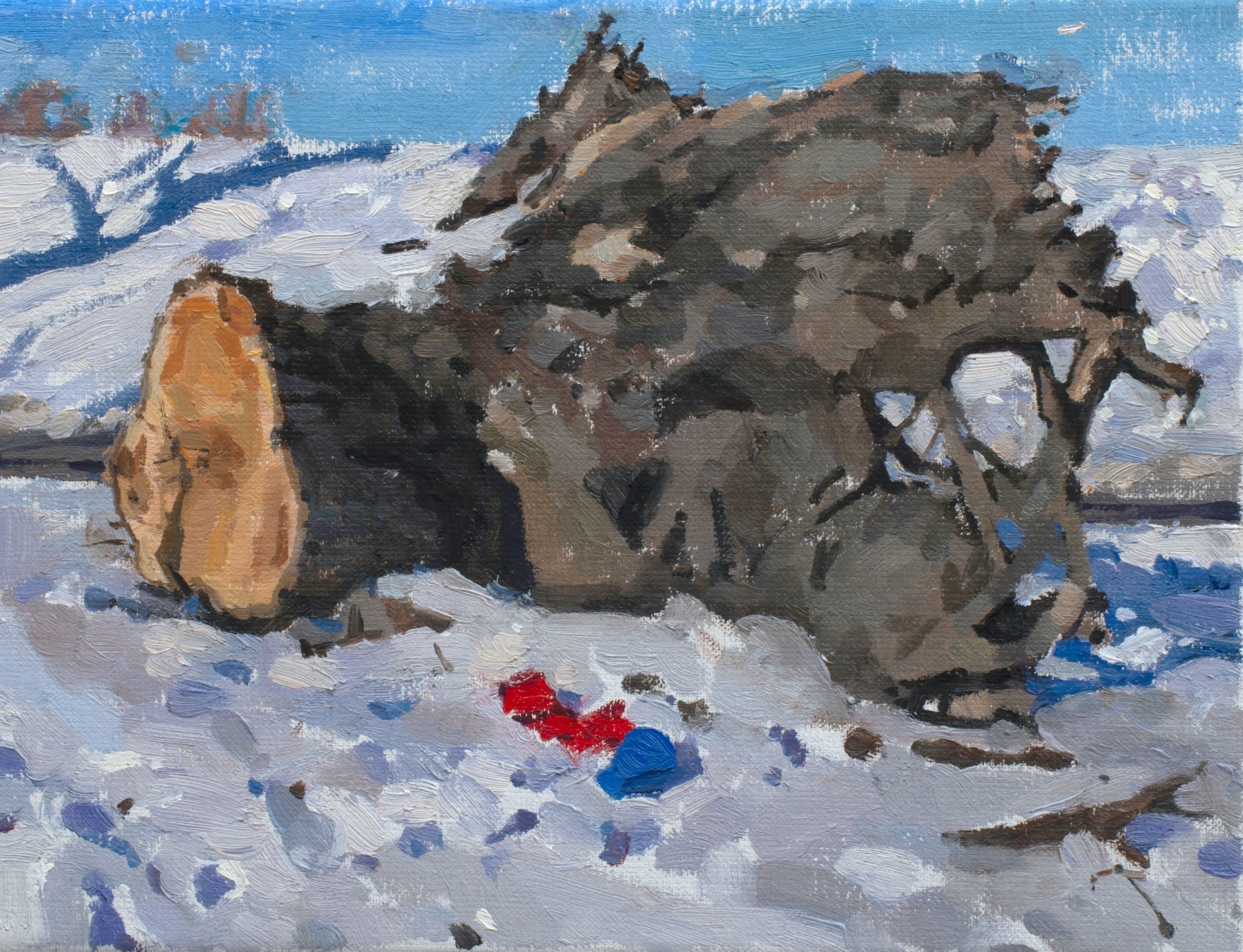 Interpretation is open and unlimited in this body of work. For instance, in Dealer's Choice, what at first seems to be an elegant, welcoming setting in the form of a beautiful dining room foils expectations with the conspicuous placement of blue nitrile gloves. The scene is transformed into a museum period room with demarcating ropes highlighting a curious and puzzling backdrop where the observer can decide whether or not to complete the story.
Similarly, in Fall Garden, a red coat lies abandoned in the foreground, littering a mostly green lawn. An onlooker might wonder how the layer found its position as a dark form abruptly appears from behind a fence. Is it a tree trunk? A camera tripod? Someone returning their gaze? The allusions at times complicate rather than illuminate, and ultimately successfully hold one's interest.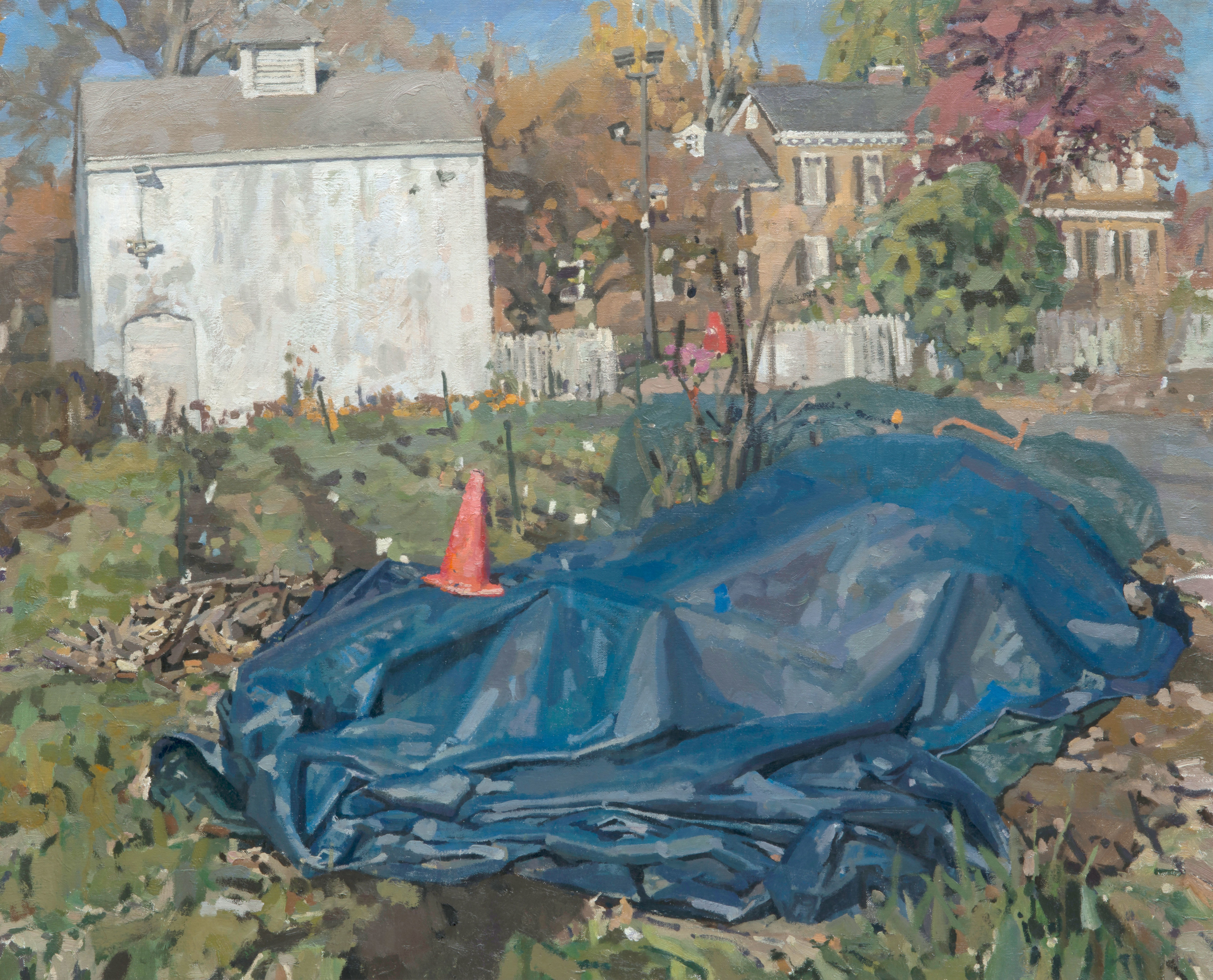 Currently based in Philadelphia, Caleb Stoltzfus is originally from Elverson, PA. He began his art education at Studio Rilievo in Kennett Square, where he studied fundamentals of painting and drawing in the Classical traditions with Neilson Carlin for 4 years. In 2015, he received his BA in art from Covenant College, followed by a year-long fellowship and solo show at The Harrison Center for the Arts in Indianapolis.
From 2016-2017, Stoltzfus studied plein air landscape painting and multi-figure composition in the Russian tradition under artist Daud Akhriev. He has exhibited his work in solo and group exhibitions in the Midwest and Mid-Atlantic regions, including Manifest Gallery, Cincinnati and First Street Gallery, New York. In 2020, he began this new series focused in part on Woodford Mansion, where he lives and is the caretaker. This is Stoltzfus' first solo exhibition in Philadelphia.