"The compositions are mapped using memory, photographs and found imagery. Leaving behind the rigidity of the grid with its evenly spaced increments, the images reflect a bodily experience of space neglecting traditional perspective. My experience and memories of these sites inform the scale and distance of objects to create a personal geography."
- Dave Walsh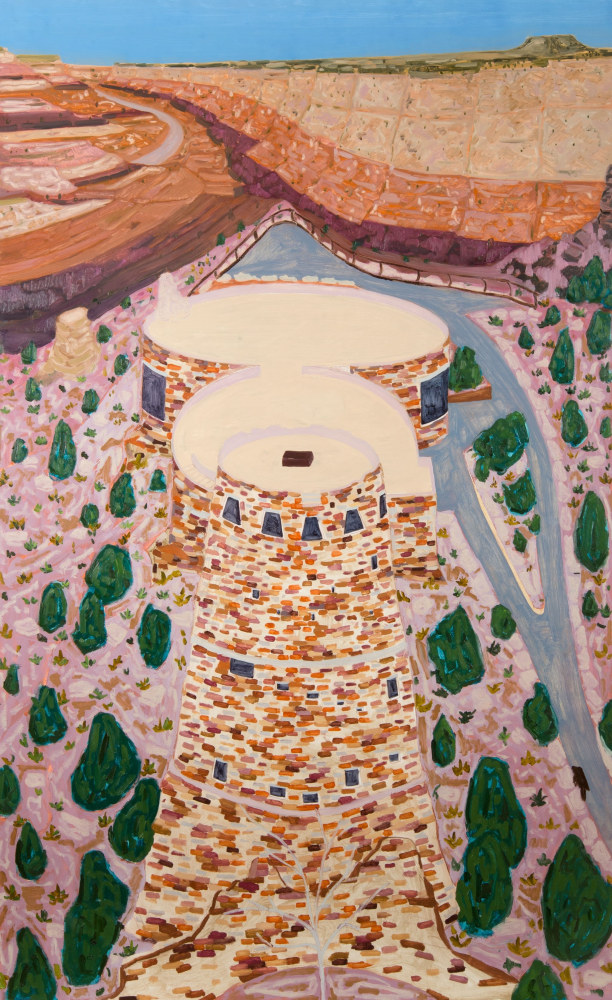 About the Exhibition
Dave Walsh's monumentally-scaled landscape paintings depict national landmarks, parks and dams. Working from memory, photographs and found imagery, Walsh includes vast, scenic vistas as well as details found in trail maps, advertisements, sidewalks, parking lots, bathrooms and graphic illustrations of the sites. His work conveys more information than one can take in at once, with aerial views of trails, buildings, and bodies of water, that are layered onto frontal depictions of architecture.
Each painting is intuitively organized, ignoring landscape traditions of Western art history, such as linear and atmospheric perspective, and the sublime. Walsh replaces historical landscape conventions with his own experiential understanding of these scenes and spaces from a literal, bodily and chronological perspective. These directorial decisions cause the landscapes to flatten, subverting the conventional hierarchy of space and often de-prioritizing the landmarks themselves.
Walsh also manages to manipulate our commonplace perceptions of these iconic places as well as the mythological symbolism they represent in American society. His work invites us to consider the glorification – or as he calls it – "quasi-religious" status of these icons, illustrating his view that the history of the land's ownership and occupation in North America is not as clean and holy as the gorgeous views might imply.
Dave Walsh lives and works in Philadelphia. He received his B.F.A from Tyler School of Art in 2010 and his M.F.A from Yale School of Art in 2015. He was a 2105-16 Fellow at the Fine Arts Work Center in Provincetown, Massachusetts and currently teaches painting and drawing at Villanova University and Tyler School of Art.