"The shadows are everything, imbuing unexpected meaning. They are unplanned, undefined, but dependent upon the viewer emotionally or psychologically. Shadows hide and reveal, form emerges and disappears."
- Eileen Goodman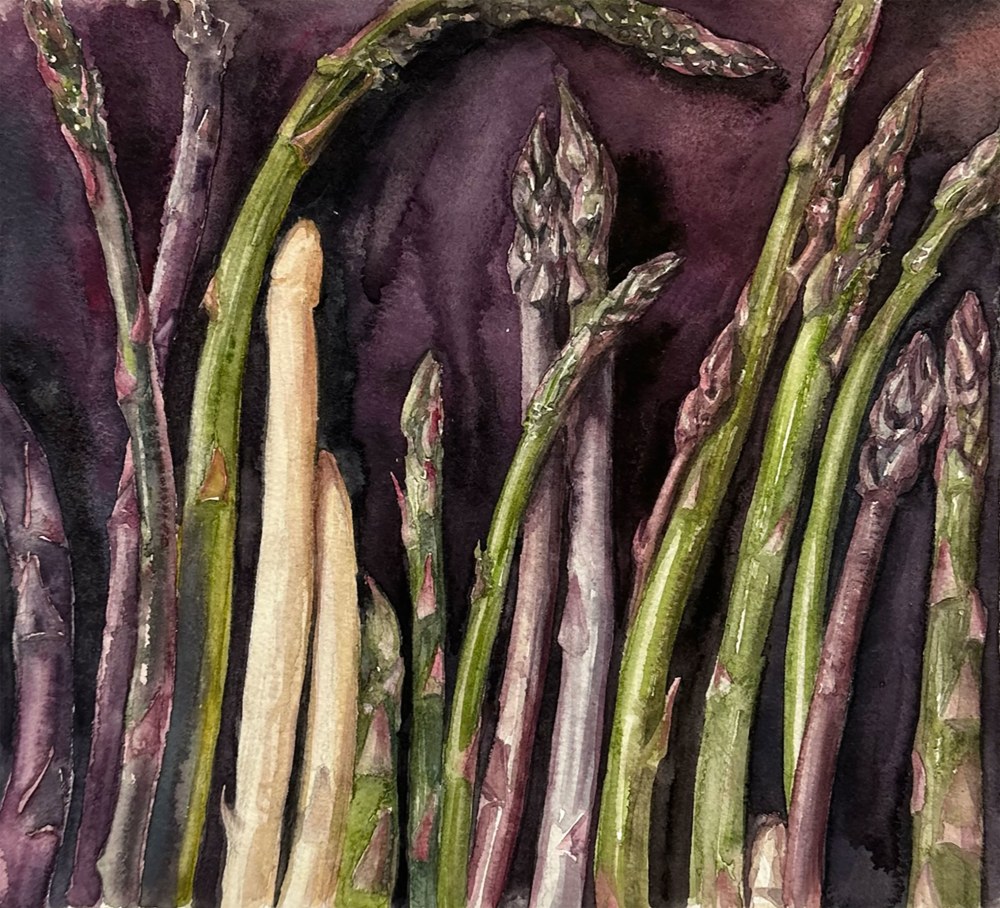 In her latest solo exhibition, Into Light, Eileen Goodman's watercolor facility is on bold display. Since her transition away from oil paint in the late '80s, Goodman has skillfully tamed this temperamental, aqueous media for use in her abundant, large-scale still life paintings. When creating work, she is focused on the basic components of observation, color, light, and shadow. It is only upon reflection, after deep shadows have defined their purpose, that possible interpretations come to light.
Beginning with an arrangement of objects, such as fresh flowers or vegetables, Goodman utilizes photography to preserve their appearance and capture a particular tone. She then crops and adjusts a printed version of the photograph to construct a desired composition. Once satisfied, the painting commences with washes of transparent pigments on white paper. Select areas are thoughtfully conserved for future highlights while the rest of the image is pushed into the paper, delineating shape and space.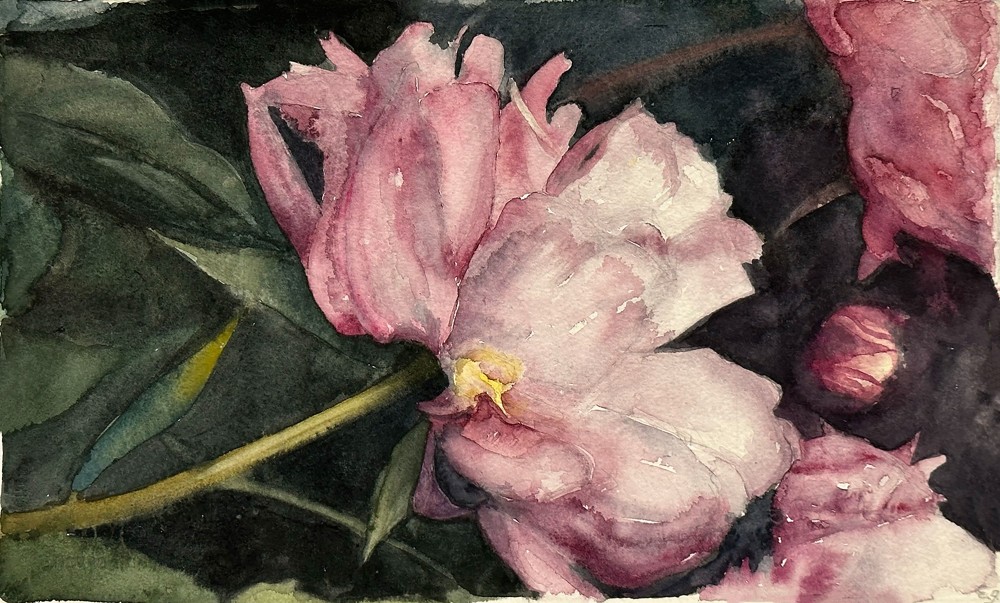 Eileen Goodman views her job as that of a formal and technical creator rather than a conceptual theorist for visual information; a viewpoint shared by many artists who came of age during the mid-20th century. In many of her works, undefined shadows are akin to an abyss. The objects depicted sit precariously between an unknown background and illumination from a light source. As a result of these formal decisions, narratives and metaphors abound. Layers of dense pigment reflect the passage of time, with each shadowy layer pulling Goodman's bouquets, cakes, and produce into distant realms and times.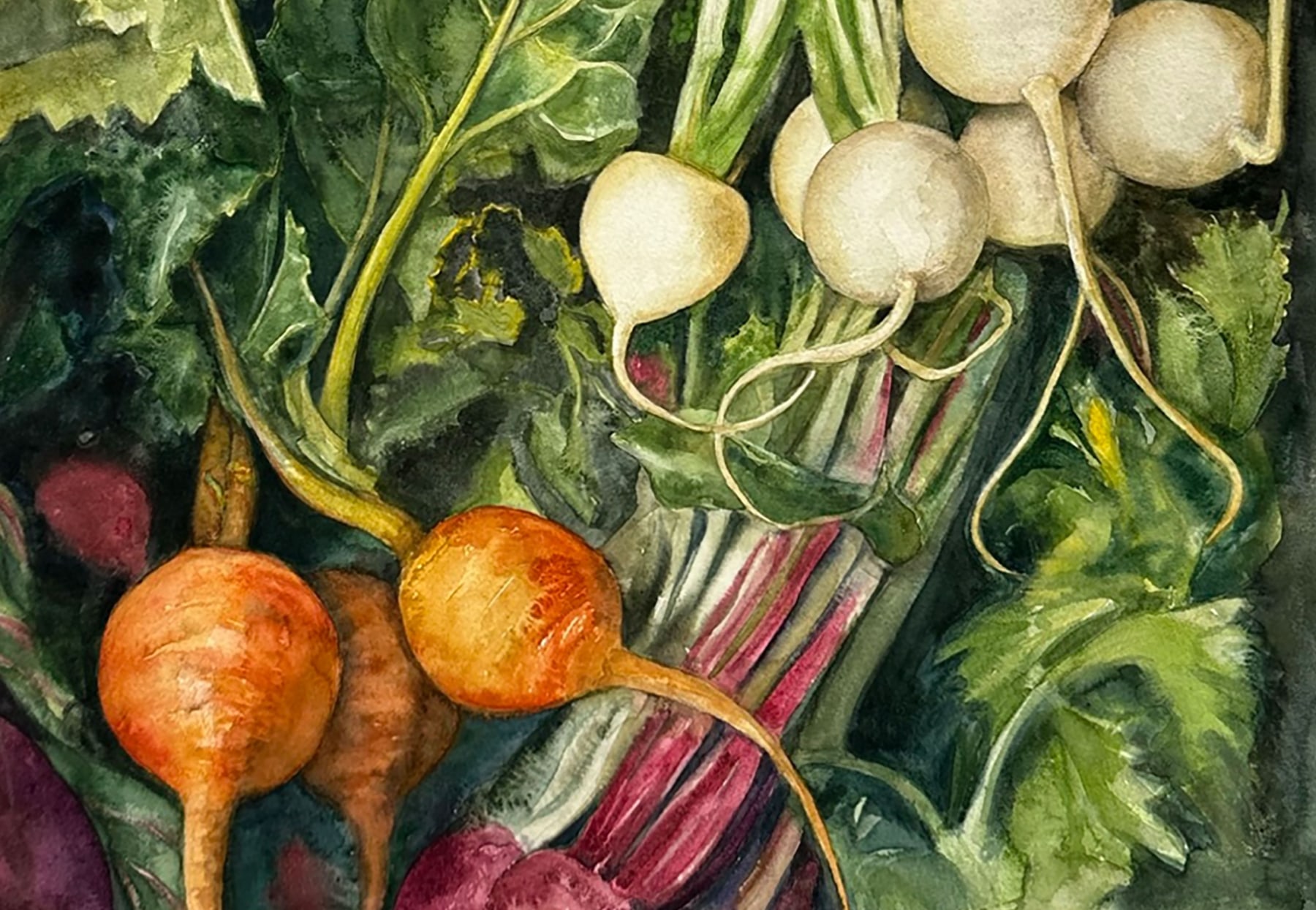 Eileen Goodman received her BFA from the Philadelphia College of Art (University of the Arts) in 1958 and has since become an important figure in the Philadelphia painting community. She has exhibited her work in numerous solo and group exhibitions across Philadelphia and the northeast region.
Her work resides in local collections both public and private including Merck Pharmaceutical, The Philadelphia Museum of Art, The Woodmere Art Museum, The State Museum of Pennsylvania, and many others. Goodman has won numerous awards for her work and has been featured in many articles, reviews and books. Eileen Goodman lives and works in Philadelphia.