"For the Modernists, painting itself is the subject. But frontality and shallow space also characterize Classical and pre-Renaissance painting. I like straddling the two, working between old and new, between the real and imaginary."
- Elizabeth Geiger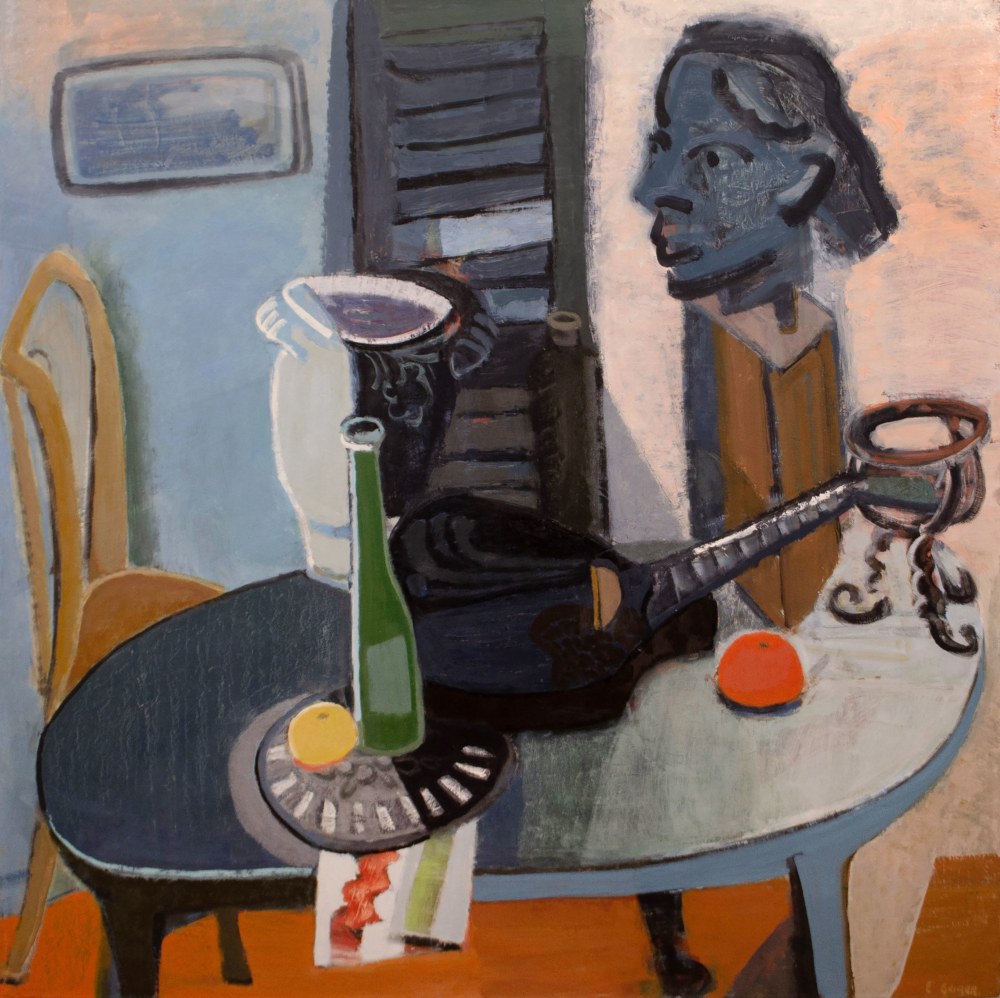 Elizabeth Geiger is a lifelong student of painted form and has focused on still life for decades. Geiger's choice to adopt this subject matter has allowed her approach to representation to steadily advance into new territory, guided by the luminaries of art history.
In Borrowed Rhythms, Geiger has relaxed her fidelity to observed forms and colors. Embarking toward a world that embraces the rhythms, tensions and visual contradictions of Cubism, her new paintings playfully divide up rectangular canvases into simplified shapes.
While the objects within the pictures remain nameable, their details and textures have been replaced with flat color or quick notations of pattern. These shifts in emphasis transform her paintings into purposeful and surprising compositions containing formal elements that self-reference and rhyme across the picture plane.
While these new works are a departure from Geiger's previous style, they contain the next logical step on her path, satisfying her personal artistic vision and her unending interest in experimentation. While maintaining her classical sensitivity to color and light, Geiger manages to investigate the conventions of Cubism and Modernism. The result is a sophisticated blend of contemporary, modern, and historical styles of painting.
Elizabeth Geiger attended the University of Virginia for painting, followed by time at the New York Studio School and the Vermont Studio Center. Geiger has won a fellowship from the Virginia Museum of Fine Arts and shown her work regularly throughout the country. Her work is in the collection of the Sheltering Arms Hospital Richmond as well as the Clay Center Museum of Fine Art in Charleston, WV.
Along with her regular teaching at the Beverley Street Studio School in Staunton, VA, she has been a visiting artist at the College of William & Mary and the Kentucky College of Art & Design, spoken at Washington & Lee University and the Pennsylvania Academy of Fine Arts, taught landscape painting at the Mount Gretna School of Art and leads workshops throughout the Eastern United States. She is married to figurative painter Philip Geiger and they have two children who studied art in college. She lives and works in Virginia.