"The title for the show, Plot Lines, comes from both the physical boundaries of a plot of land and the components of a narrative… Working in a smaller framework allowed me to develop many pieces at the same time. It was as though they were in conversation with each other."
- Emily Richardson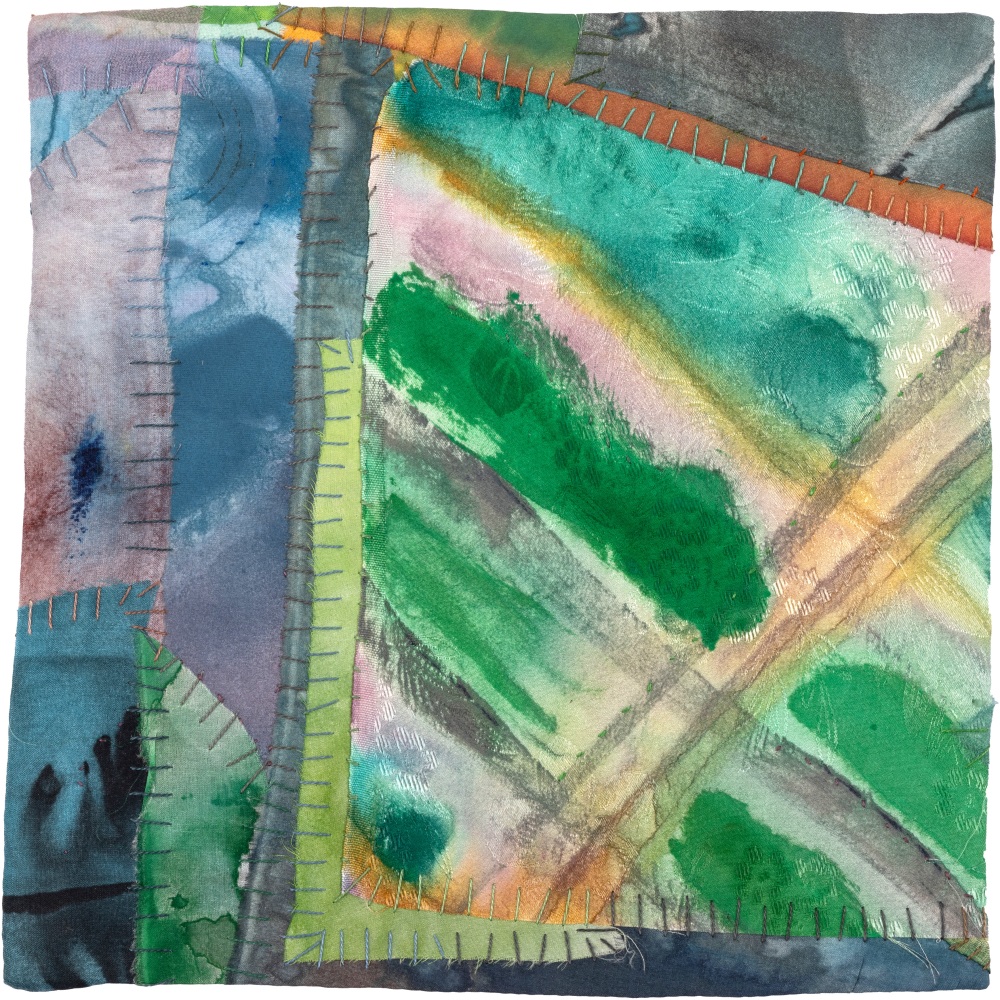 Gross McCleaf Gallery is pleased to present Plot Lines, a new series of painterly fiber works by Emily Richardson. Comprising twenty-two unique pieces, Richardson's work masterfully combines fragments of stained and painted fabrics into abstract compositions that allude to elements from the landscape as well as modernist art forms.
Each of Richardson's inspirations are as deep and varied as the works themselves. Her small wall-hanging fiber art evades plain description, and she is reticent to provide specific insights. The pieces exist in a fascinatingly tense liminal space, straddling the divide between object and picture. They possess physical layers of stitched fabric while simultaneously presenting soft, atmospheric vistas of pictorial space. As she develops her pieces, thoughts, ideas, and connections ebb and flow. Occasionally, scenes surface in her memory from her cycling commute through Philadelphia neighborhoods. At other times, there are fleeting connections to art history or current events.
Image Left: From Above #2, 7.5″ x 7.5″, Acrylic And Thread On Silk
The works themselves engage in a dialogue with one another during their creation in the studio. Decisions made about one piece may alter the course of another, and Richardson embraces these intuitive impulses and responds accordingly throughout her practice without constraint or strict scrutiny. Some fibers contain moody blues and purples, while others exude ethereal pinks and oranges. Some feature geometric shapes reminiscent of Diebenkorn's Ocean Park series, while others have broad, swooping forms akin to a Marsden Hartley painting. Abstract and open-ended, Richardson's thoughtful and compelling titles invite viewers to explore broad interpretations and contemplations.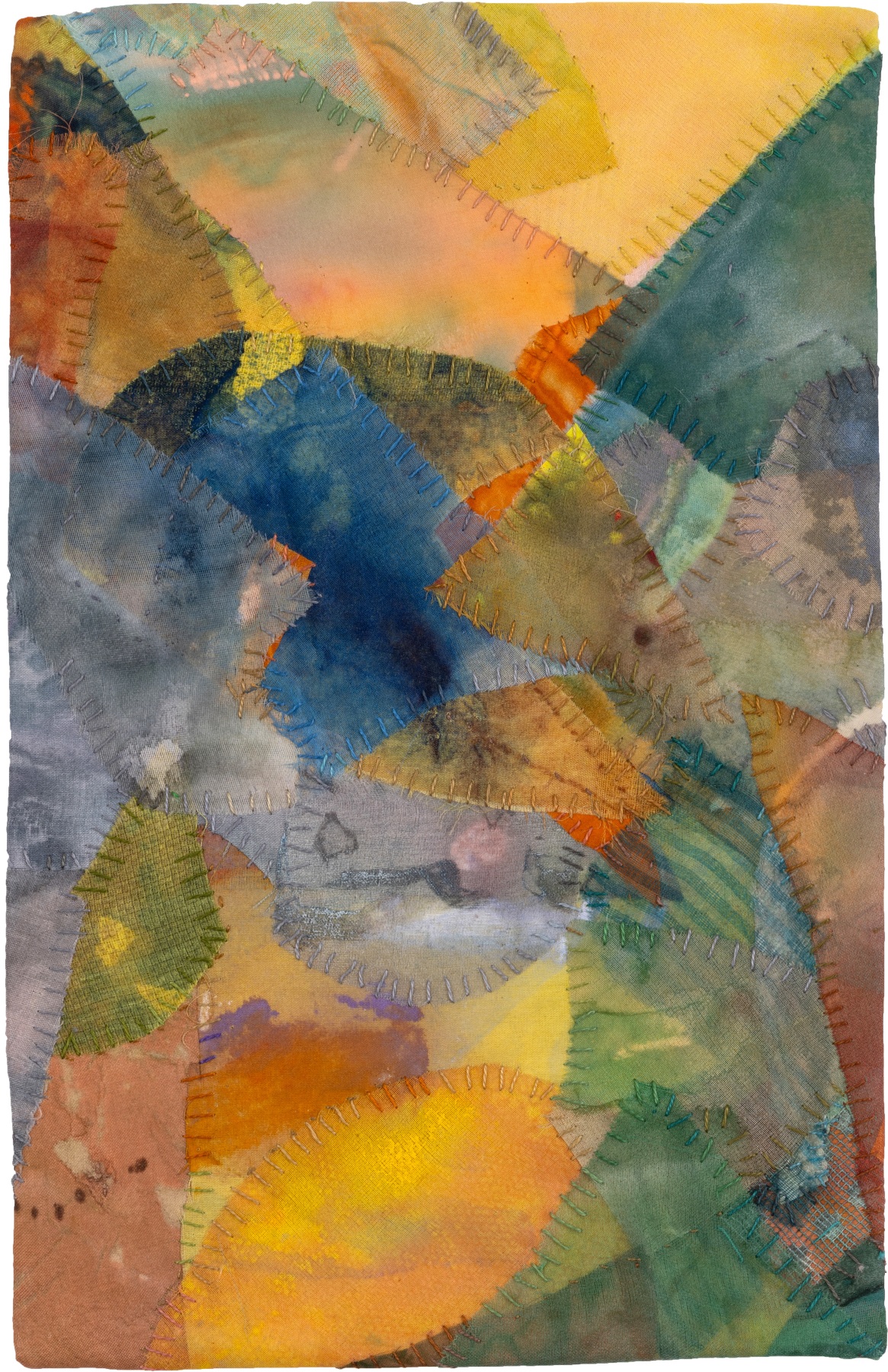 Emily Richardson's fiber work is internationally recognized for its expressive and painterly qualities. It has been featured in numerous exhibitions, including Quilt National, Fiberarts International, Oxymorons: Absurdly Logical Quilts, Visions, and Art Quilts: America at the Millennium, Quilt Expo VII, Strasbourg, France. Her pieces have also been shown at institutions such as the Netherlands Textile Museum, Renwick Gallery of the Museum of American Art, Washington D.C., American Museum of Quilts and Textiles, Kansas City Art Institute, Philadelphia Art Alliance, and Rochester Institute of Technology. In 2009 an extensive exhibition of her work was presented at the Visions Museum of Textile Art, San Diego. Her work has been published in exhibition catalogs, Surface Design Journal, Art/Quilt Magazine, Fiberarts, and The Art Quilt by Robert Shaw.
Emily resides in Philadelphia and possesses a background in fashion and theatrical costuming. She has been working in fiber since 1988. She received a 1995 grant from the Pennsylvania Council on the Arts, the 1997 Leeway Award for Excellence in Fiberarts, and the 2004 Nihon Vogue Quilts Japan Award. Her work is in many corporate and private collections including the Museum of Arts and Design, New York, and the International Quilt Study Center, Lincoln, NE. Emily has been a featured artist at Jane Sauer Thirteen Moons Gallery in Santa Fe, New Mexico. She is represented by Gross McCleaf Gallery in Philadelphia.
Image Right: Summer Moments #2, 9.5″ x 6″, Acrylic And Thread On Silk And Linen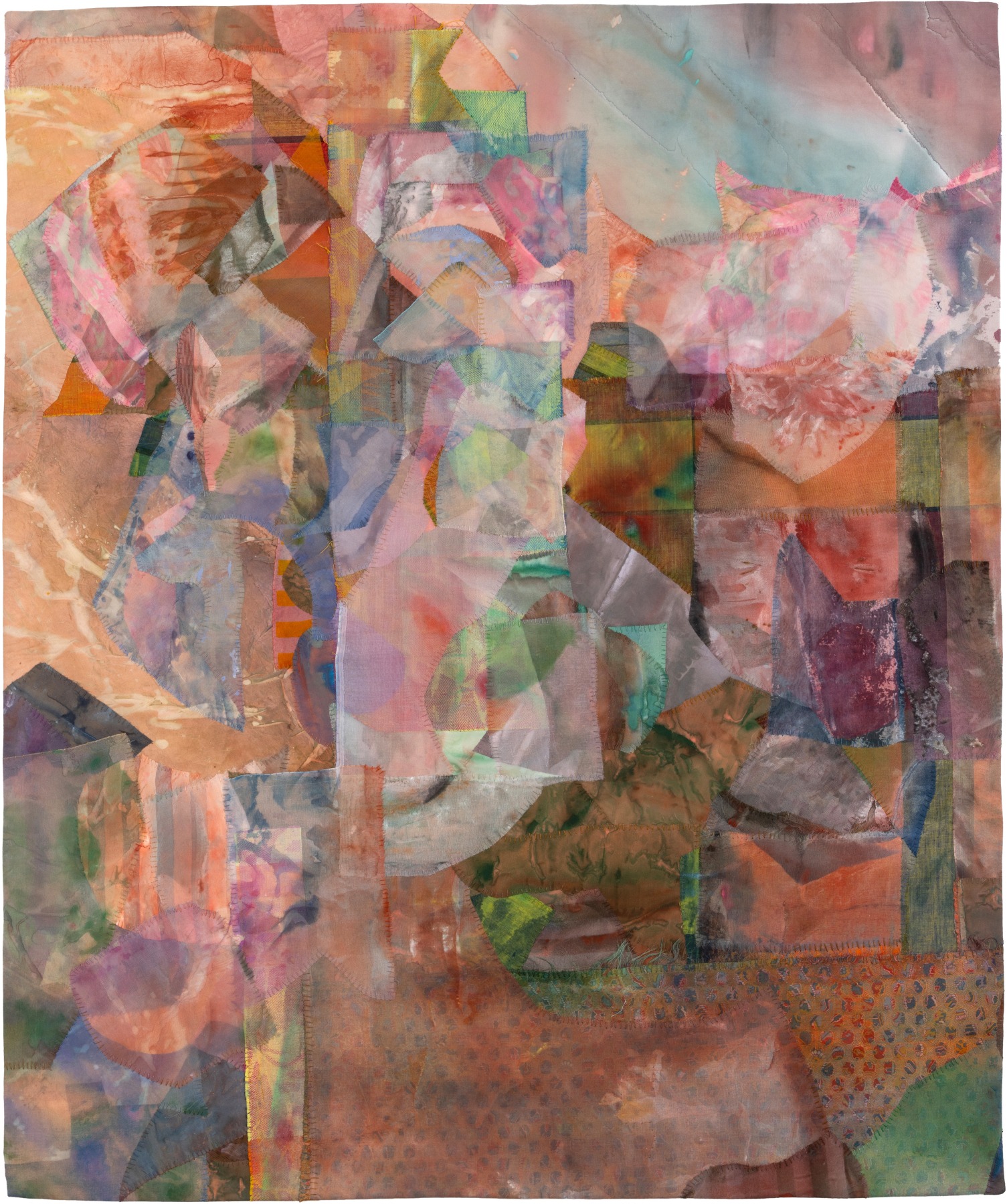 October 12 - November 11, 2023
Opening Reception: Saturday, October 14, 1 - 4 pm