"I'm not intending to celebrate human logic or achievement. Rather, what nature will achieve little by little, layer by layer…"
- John Greig Jr.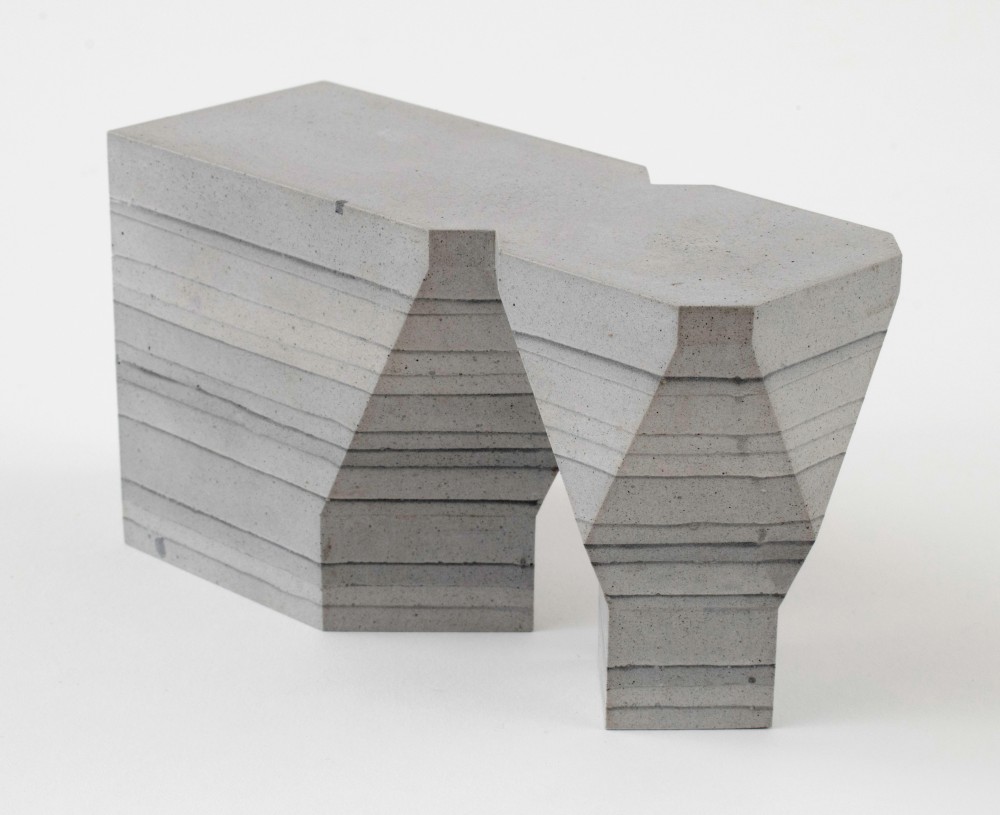 John Greig Jr. presents small sculptures created from wood, plaster and graphite in his first solo exhibition with Gross McCleaf Gallery. While his work boasts a strong architectural design, Greig's interests reach beyond formal considerations as he contemplates global climate change and the human perspective of geological time in his models.

Each sculpture begins with a series of meticulous, schematic drawings that serve to organize Greig's initial ideas. Typically, a manipulated wood element of milled or raw timber constitutes the base of a sculpture. Next, plaster, also known as gypsum, is slowly deposited in layers within a mold that sits atop the base. A striated pattern appears, defined by varying amounts of incorporated graphite, depicting sedimentary layers of earth and rock. The emergent mortar-like structure complements the organic wooden component, forming the artist's final abstract piece.

Greig's sculptures are intimate in scale (less than twelve inches in any direction), proportions that prompt more immediate and personal ruminations than the industrial feats of human engineering their structures call to mind. His works prophetically allude to a future time when today's cities are beneath earth and ocean. In Greig's world, continuous and unpredictable environmental changes persist despite the planet being dominated by a single technological species. He considers this an idea worth holding onto with humility, comfort, and peace.
Greig received a Certificate from Pennsylvania Academy of the Fine Arts and attended Haystack Mountain School of Crafts in 2008. He has exhibited his work extensively in solo and group shows and is presently the sculpture shop manager and a faculty member at the Pennsylvania Academy of the Fine Arts. This is Greig's first solo exhibition with Gross McCleaf. Greig lives and works in Philadelphia.