"From the beginning, I was reading the newspaper religiously and rooting for the St. Louis Cardinals, later the Red Sox, and now the Phillies. As time goes on, I pick up more and more teams… I've become more of a fan of the game itself. I've even started to respect and sympathize with Yankee fans."
- Max Mason III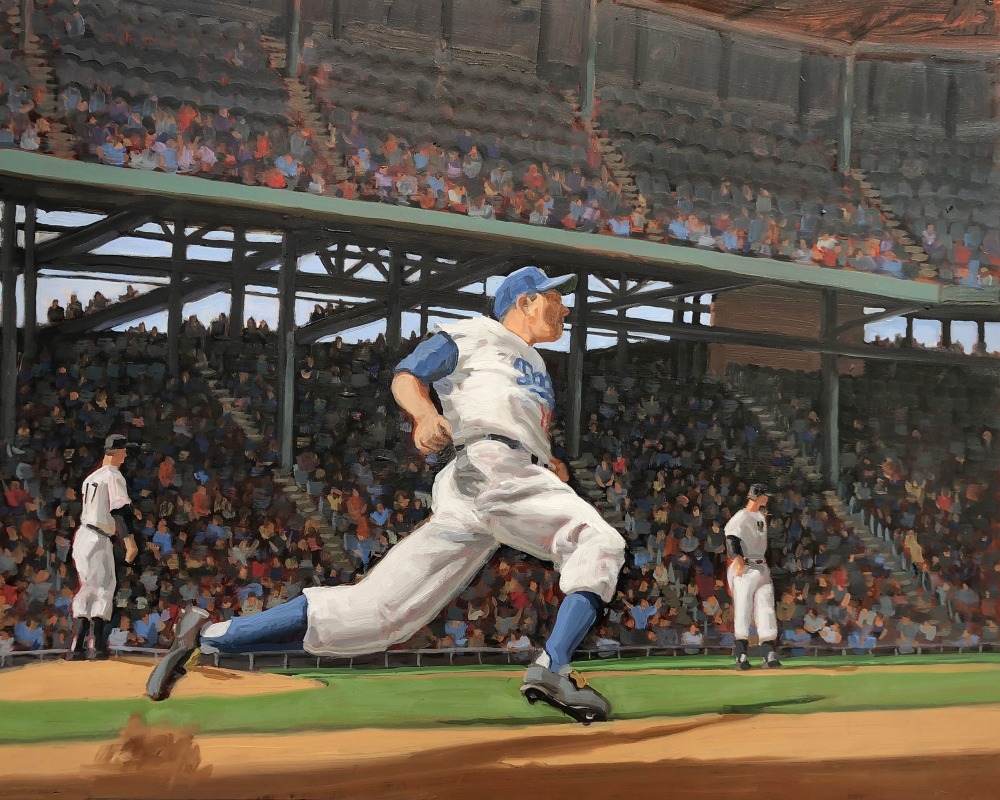 In his newest solo exhibition "Play Ball!" Max Mason returns to the classic subject matter of Major League Baseball with paintings and drawings depicting America's favorite pastime. Like many contemporary artists, Mason has fruitfully combined his passion for artmaking with an ardent personal interest. Illustrating key moments of the game and the energetic movements of particular players alike, his dynamic compositions arise from stadium seats to capture the excitement and pleasure of a sunny afternoon in the stands.
Each of Mason's paintings offer something special for the quintessential fan. Some works, such as PNC Park, Pittsburgh, foster a sense of connection to the passage of time by utilizing imagery from old photographs. Others, such as Extra Bases and Richie In Connie Mack, instantly transport the viewer into the present moment through keenly observed kinetic portrayals of players in action. While the paintings are largely representational, Mason employs painterly brush strokes to indicate form and a stylized shorthand reminiscent of comic strip illustrations or heroic cartoons, that serves to exaggerate his players' postures. Mason also uses patterned abstraction to handily portray the faceless mass of spectators in the background. At times, the active nature of these multicolor marks further enhances the perception of motion expressed in the works.
Beyond the portraits of players, fans and the game itself, the viewer is also treated to detailed perspectives that are not easily accessible. One can soar high above the stadium in The Great American Ballpark With Birds, or savor the delight of concession foods up close in Dollar Dog Night, Progressive Field, Cleveland. Viewers can easily imagine the attendant smell of popcorn and hear the familiar tunes of the pipe organ in this lighthearted, homerun exhibition. Go Phillies!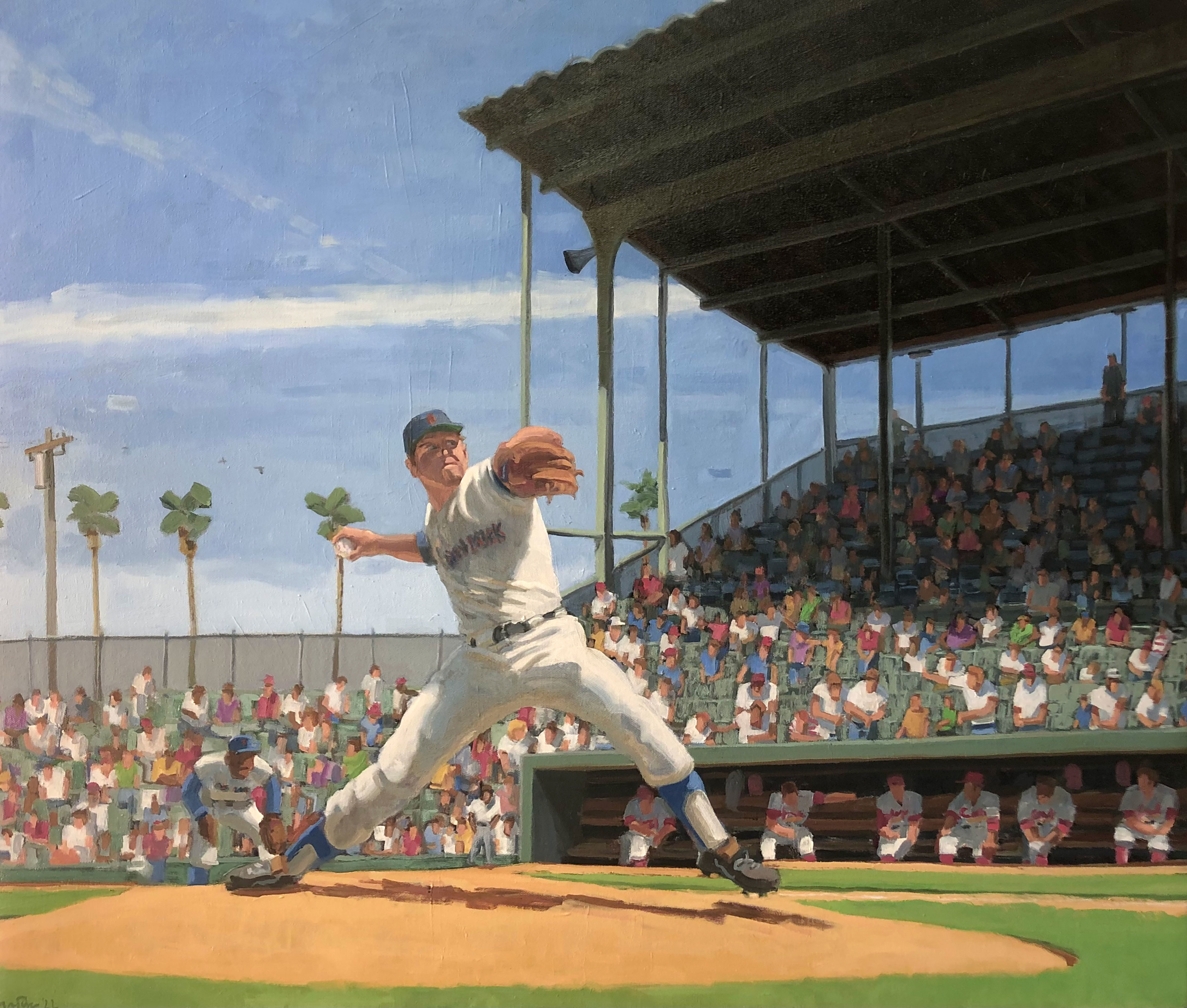 Max Mason grew up in the Boston area. He attended Vassar College and graduated in 1975 with a degree in Geology. In 1981 he began studying with landscape painter Neil Welliver at The University of Pennsylvania. Soon after, his favorite subject matter became baseball.
Mason has been represented by Gross McCleaf Gallery since 1986. He has had two solo exhibitions at the Butler Institute of American Art in 1992 and 2021. In 2004, he was commissioned by the Philadelphia Phillies to create a number of paintings and murals for their new ballpark. He has exhibited internationally and has had over 20 one-person shows nationwide. In 2010 he started The BallPark Project, an endeavor to paint large, dynamic, fan oriented paintings of all 30 Major League Baseball ballparks. He blogs about his travels, the creation of the paintings and the ball parks themselves. He is also a musician and performs with his daughter Margaret and has enjoyed playing with the power swing band "The After Dinner Mints". He released his first album, "Social Security" in 2020. He and his wife live in Wynnewood, PA.
May 3 - 28, 2023
Opening Reception: Saturday, May 6, 1 - 4 pm