"I'm usually rendering things that aren't right in front of me or are nonexistent… My images are symbolic and don't always reflect an actual place, but are visual placeholders for an idea, emotion, or story."
- Nicole Parker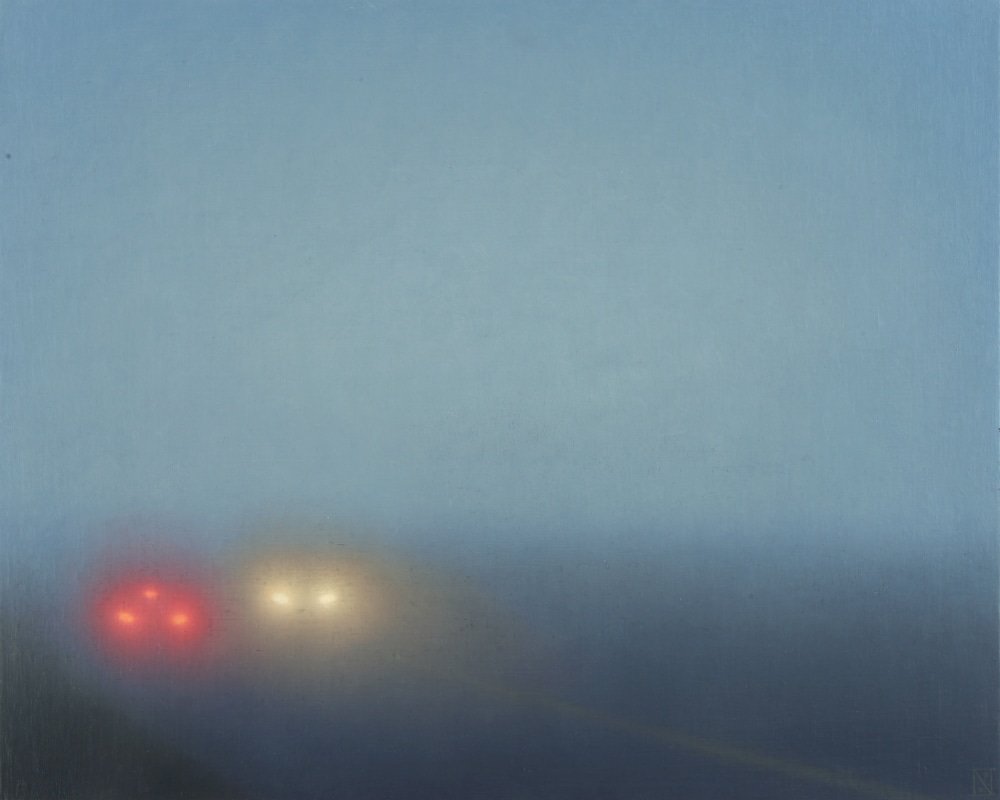 Nicole Parker returns to Gross McCleaf Gallery with Folklore, her second solo exhibition featuring a new collection of sensitive oil paintings. Exhibiting a range of subject matter, this body of work conveys Parker's love for mysterious narratives while also delivering visual metaphors that capture her child-like wonder.
In Parker's work, a sense of wistful romance is woven through each canvas. The natural world is a consistent theme as both flora and fauna are meticulously rendered with unmistakable technical prowess. She often depicts the nocturnal world bathed in soft, distant light, or landscape views of solitary roads enveloped by the profound stillness of the night. In addition, there is a recurring motif of dwellings that typically possess a beckoning glow, suggesting a safe haven of comfort, warmth and quietude.
(Image Left: Are We Lost?, 16″ x 20", Oil On Mounted Linen)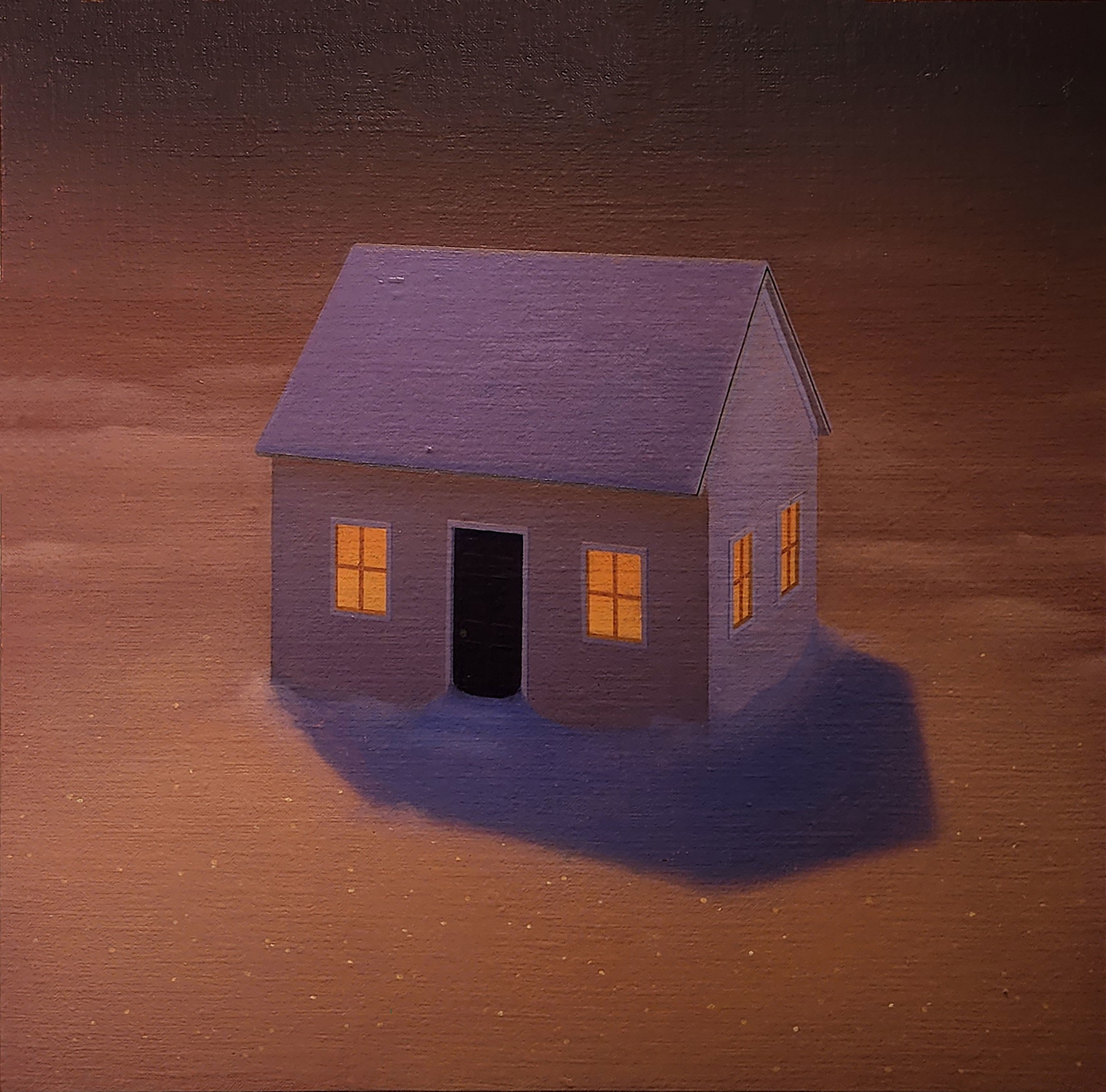 In these intricately crafted worlds, structures, animals, and scenic features subtly emerge from the fog of soft chiaroscuro, as if materializing from a dream. Parker often plays a game of visual hide-and-seek, at times limiting information provided to the viewer. Subjects are intriguingly cut off at the painting's edge or are only faintly suggested – their presence inferred by a cast shadow, as with the barely noticeable cat in Breakfast. In Old Blues, the forms of a canine and a home atop a hill seemingly merge into their environmental surroundings to become one silhouette.
This intentional sparseness allows for a leisurely and thoughtful interpretation where nuance can unfold. Conversely, in Purple Fugue and Stardust, a sense of horror vacui reigns as the viewer becomes spatially engulfed by a sea of delicate leaves and flowers. Whatever the vantage point, Parker's paintings seem to momentarily suspend reality, transporting the viewer to another world where their imagination takes over and whispers tales of longing, nostalgia and magic.
(Image Right: Three Dog Night, 16″ x 16″, Oil On Mounted Linen)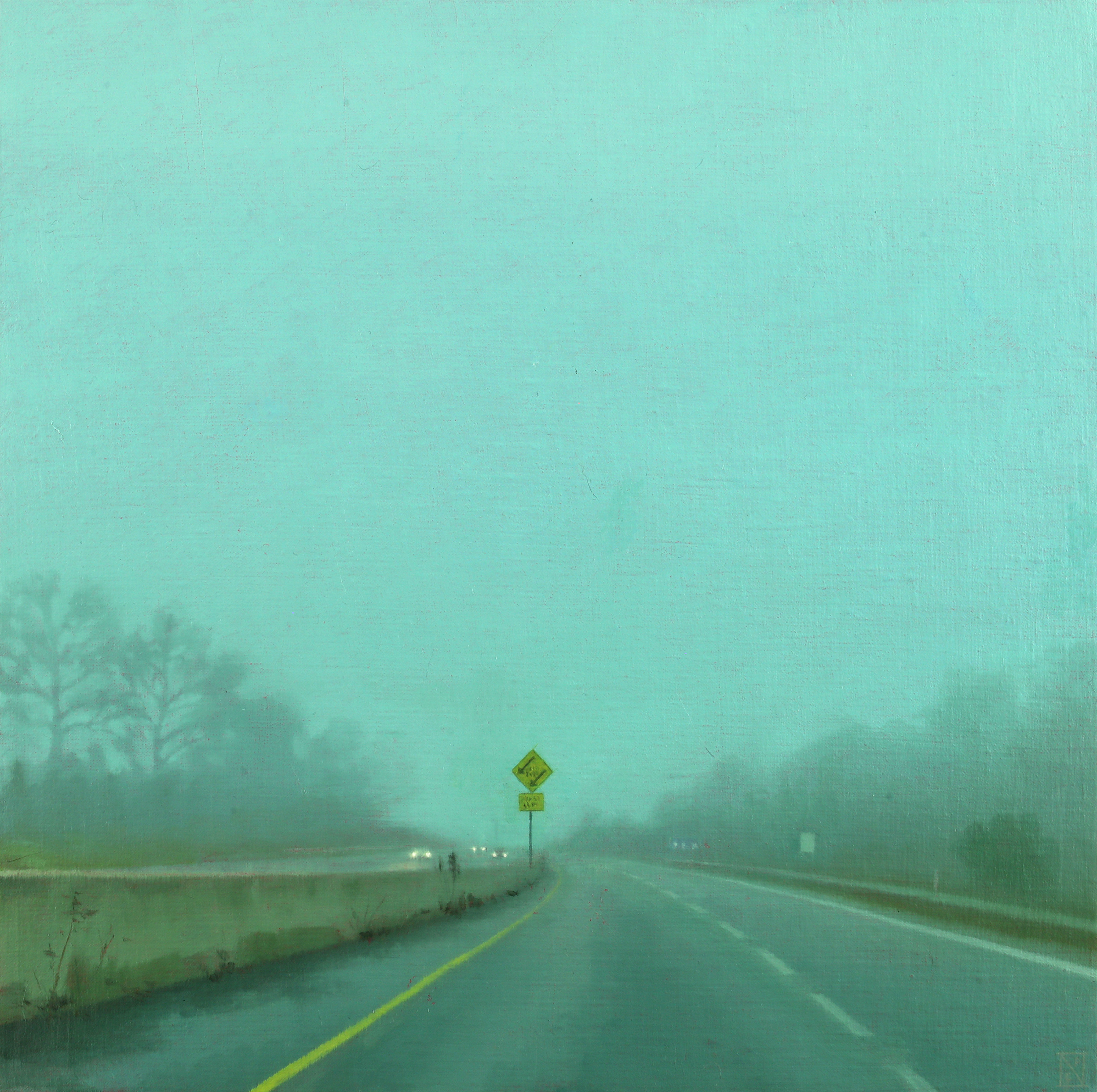 Parker's deep appreciation of cinema is apparent in her works. She effectively paints color and light that sets the mood, time, temperature, and season of each scene with astounding specificity. To achieve this, most of her works contain a limited value range, where varying tonal shifts within a single dominant color add to the overall richness and atmosphere of her art. For instance, pale yellow light brings a cozy, winter morning to life inside an old house in Breakfast, while a soft turquoise mist portrays a cold highway road at dawn in New Year's Day. In several of the works, burnt orange becomes reflected light on a snowy landscape and warm purple a mysterious night sky at dusk. Altogether, the result is an array of deeply evocative, emotionally resonant paintings.
Nicole Parker is currently based in Maryland. She received her BFA and Certificate from the Pennsylvania Academy of the Fine Arts (PAFA) in 2018. During her time at PAFA, she was a recipient of the Richard C. Von Hess Memorial Travel Scholarship, which allowed her a month of travel in Germany, the United Kingdom, and Iceland to explore individual artistic pursuits of her choosing.
(Image Left: New Year's day, 16″ x 16", Oil On Mounted Linen)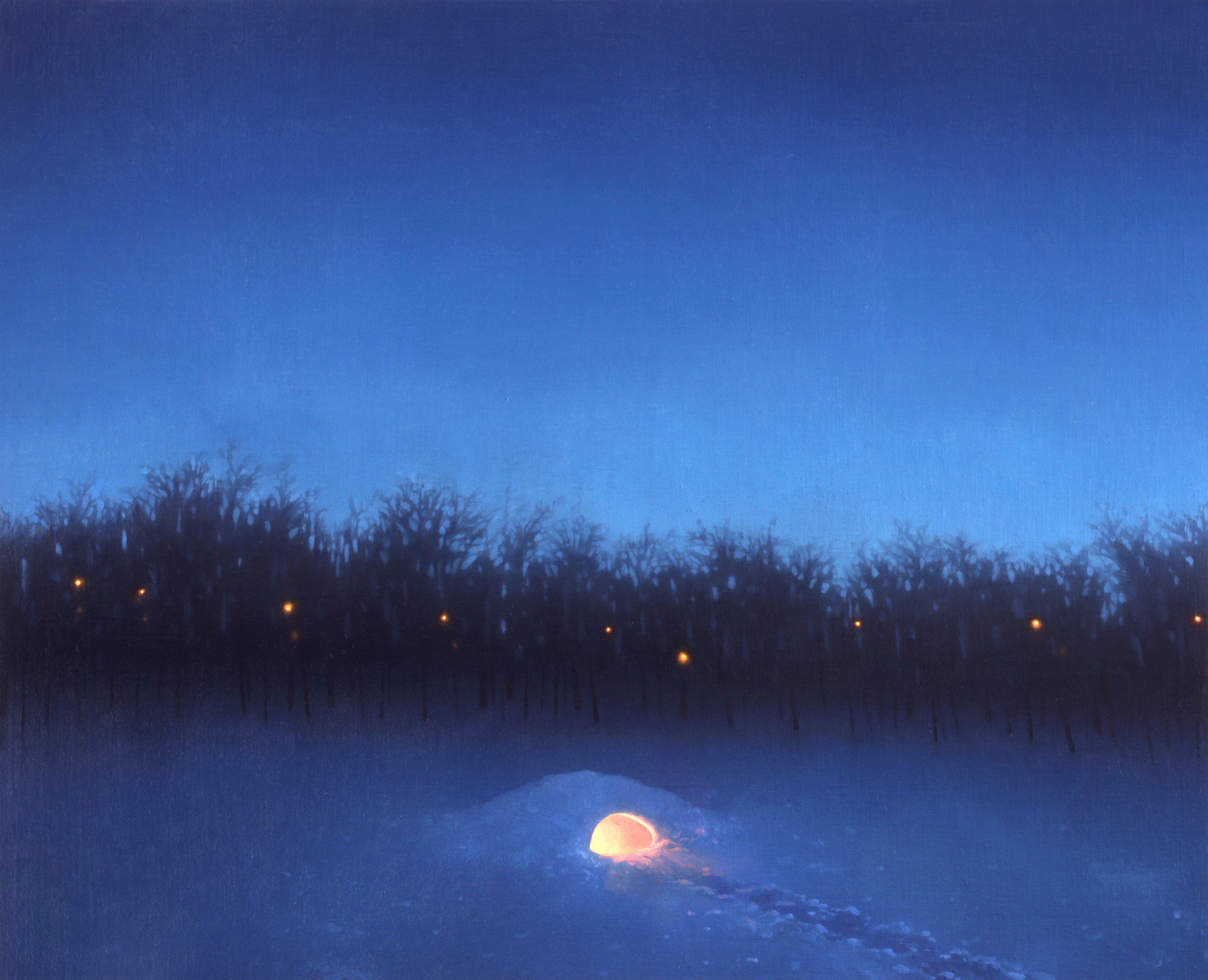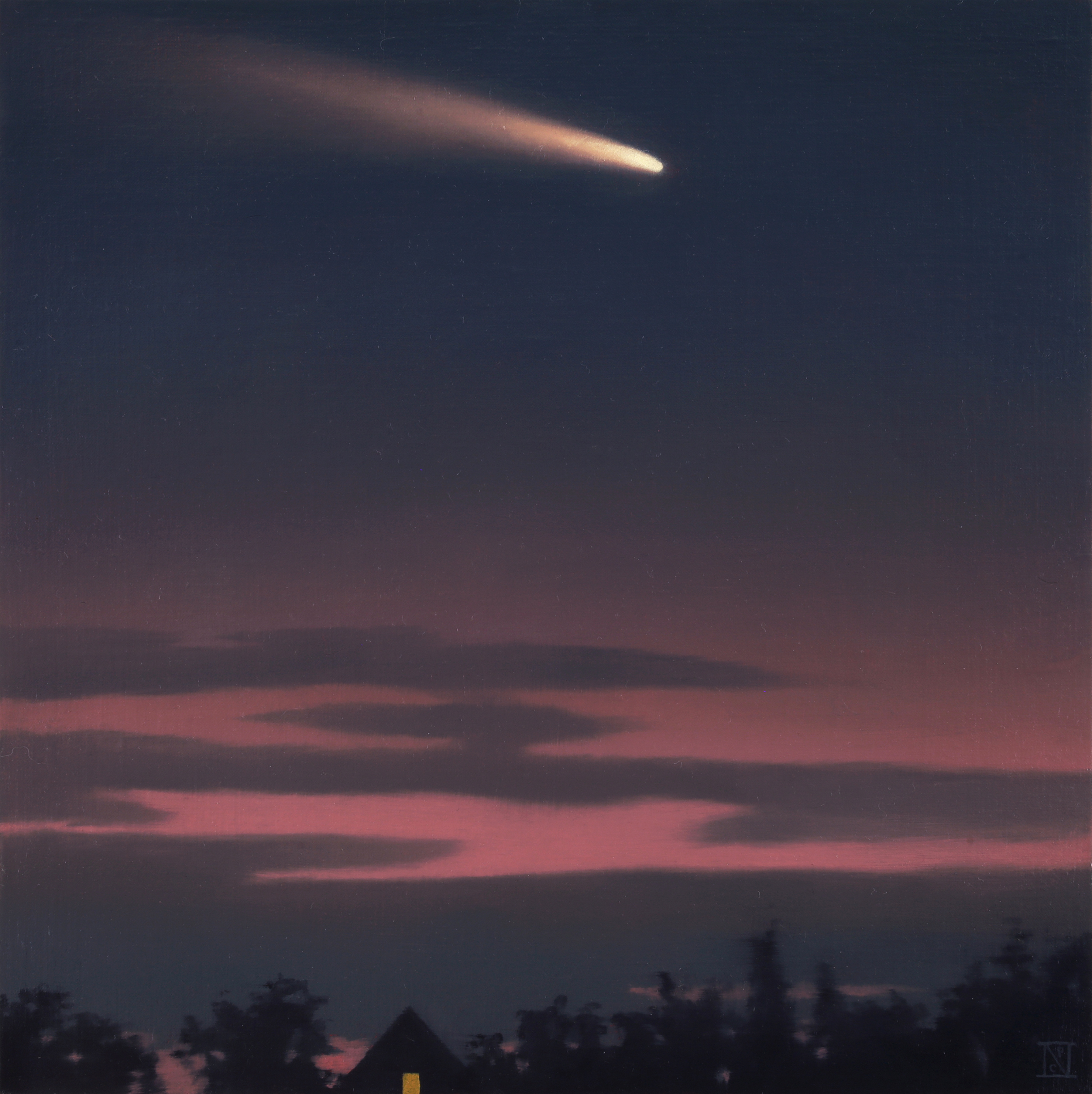 After graduating and completing her overseas travel, she had her first large solo exhibition at the Rouse Company Foundation Gallery at Howard Community College in Maryland, where she previously studied during high school. She had her first Philadelphia exhibition in 2021 at Gross McCleaf where she is represented.
Nicole has also enjoyed making work and learning from other artists at Pyramid Atlantic Art Center in Hyattsville, Maryland, where she was previously an Artist in Residence, and is now a Printmaking Associate. She has exhibited her paintings and prints in numerous group exhibitions along the East Coast, including in Pennsylvania, Maryland and New York.
(Image Right: Give Me A Place To Be, 12″ x 12″, Oil On Mounted Linen)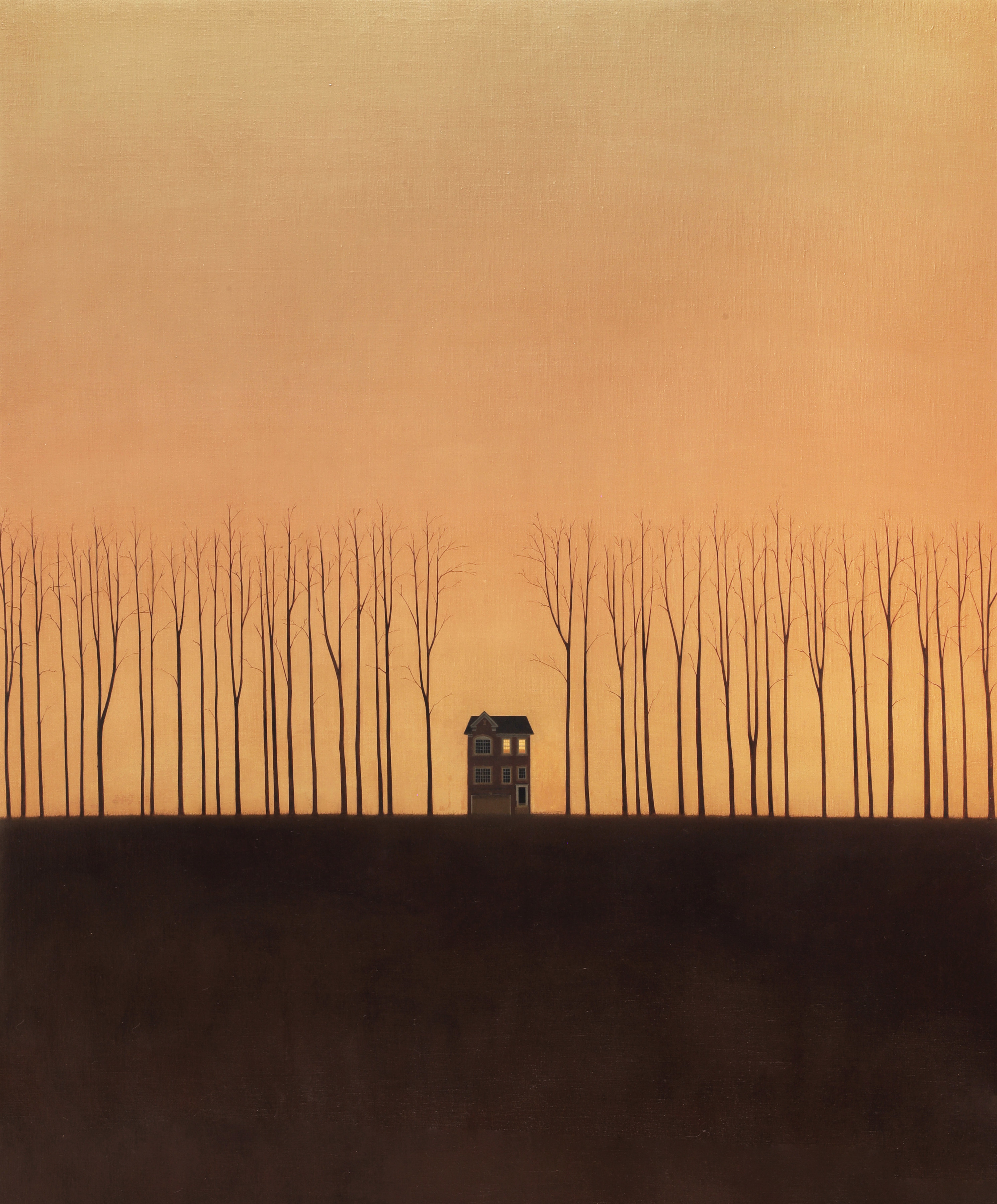 November 16 - December 23, 2023
Reception: Saturday, December 2, 1 - 4 pm