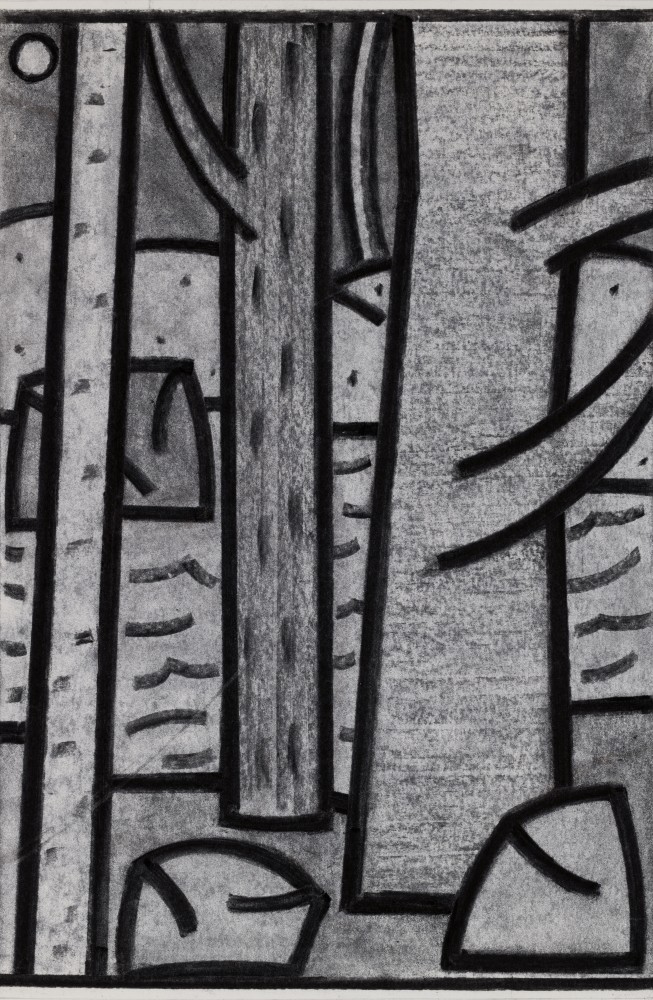 WONDER (50" range) - Humankind's ongoing continuum of curiosity is at the core of these narratives. Drawn pictures with titles such as Wonder, Quest and Search describe the types of universal pursuits that seem central to all people.
FLOURISH (45" range) - Similar to celebrative centerpieces, these images announce their singularity with a stately presence. Each heroic image proudly displays itself - in celebration of itself. At times a subtext of minimal characters also appears, providing subtle identifiers.
DETAIL (close-ups) – Viewing these images at close range is critical in order to experience the gritty handmade rubbed surfaces, charcoal line densities, and imbued presences. These details highlight the miniscule specific decisions that contribute to the overall work of art.
ENSEMBLES (large walls) – Minor but multiple variations based on simple shapes assemble together to form large collections. Each small drawing shares wall space with its numerous, almost identical partners; thus the individual becomes part of the larger population.
ORIGINS (50" - 70" range) – Diagrammatic images interpret our life sources and history. Titles such as Beginnings, Lesson and Beast describe aspects of humanity and time.
HARVEST (40" Range) – Fruits, lively plants, water, air and light are brought together in celebration of our bountiful planet.
PROCESS & STYLE
The fast, visual release of the confidant lines describes each form crisply, bluntly and without interference, yet the picture's narrative is revealed slowly and remains timeless, allowing the viewer to linger and ponder.
The graphic images can look cartoonish, but are created with a seriousness and formality.
My fingertips coat the paper gray first, and then I draw loosely and freely, searching out my characters. Once found, decisive black lines are added as accurately as possible, so that there is no mistaking what kind of image was intended.
In the end, even the large drawings are framed under glass as a way to further enhance the formality.
TOWARDS PERFECTION
Drawing with vine charcoal allows me great freedom to search for significant forms. The charcoal's erasing capacity enables me to keep the drawing loose, open and flexible for several weeks into the making of a piece: this is important as I make innumerable changes while tracking down the specific subject and images of each particular drawing.
Once satisfied with the armature or underlying information, I then crave a kind of geometric coding of the image that has been developing. It's at this end point only that I use rulers and compasses, replacing one type of drawing (malleable) with another type of drawing (precise). The one-quarter inch sticks of charcoal never change, but are asked to now perform in a much more rigid fashion. This is when the process becomes most exciting. Depending on the complexity of each piece, the number of decisions, big, small, or even miniscule are staggering. It's an exciting balancing act of control until perfection is achieved.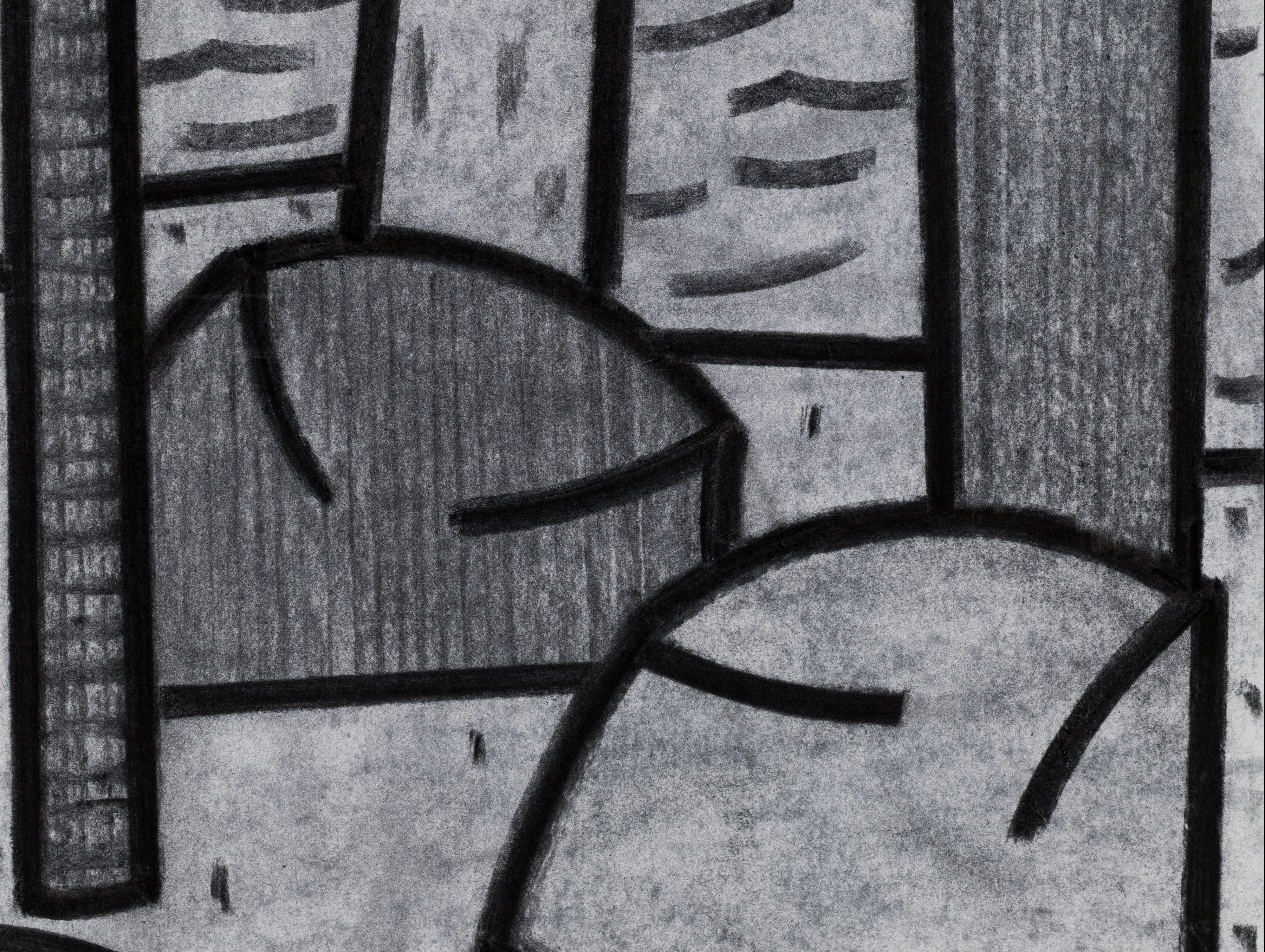 SHORT STATEMENT
Universal signs and symbols are direct and release information quickly. In my own drawing language, I incorporate a similarly authoritative, forceful sense of form dependent on line. Utilizing a gray tonal palette further helps to codify the drawings without interference.
The larger drawings are open-ended narratives speaking about humankind, while the smaller works focus on pure states of form.
Despite the rigors of the graphic style, there is always a warm feeling of being handmade and heartfelt.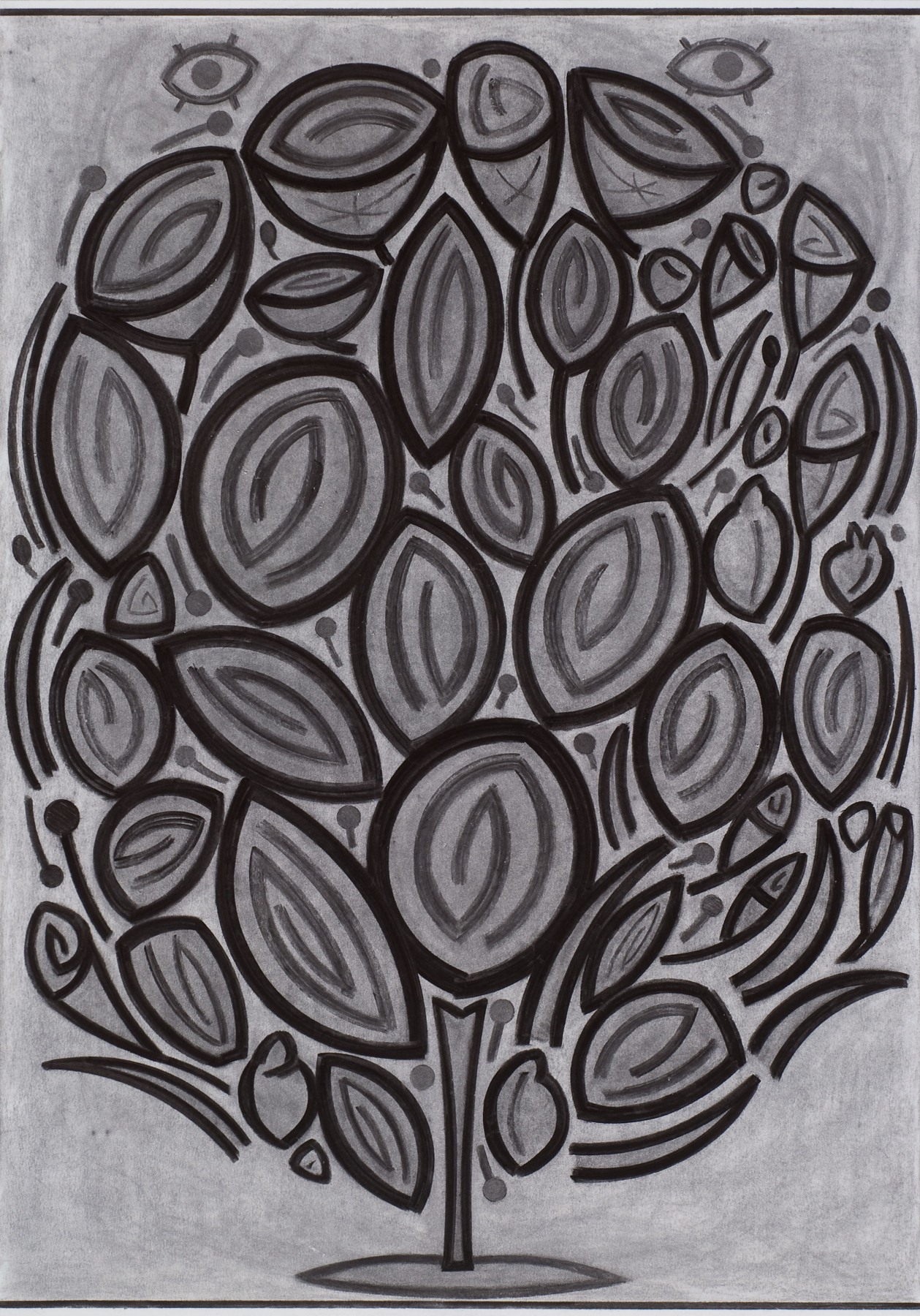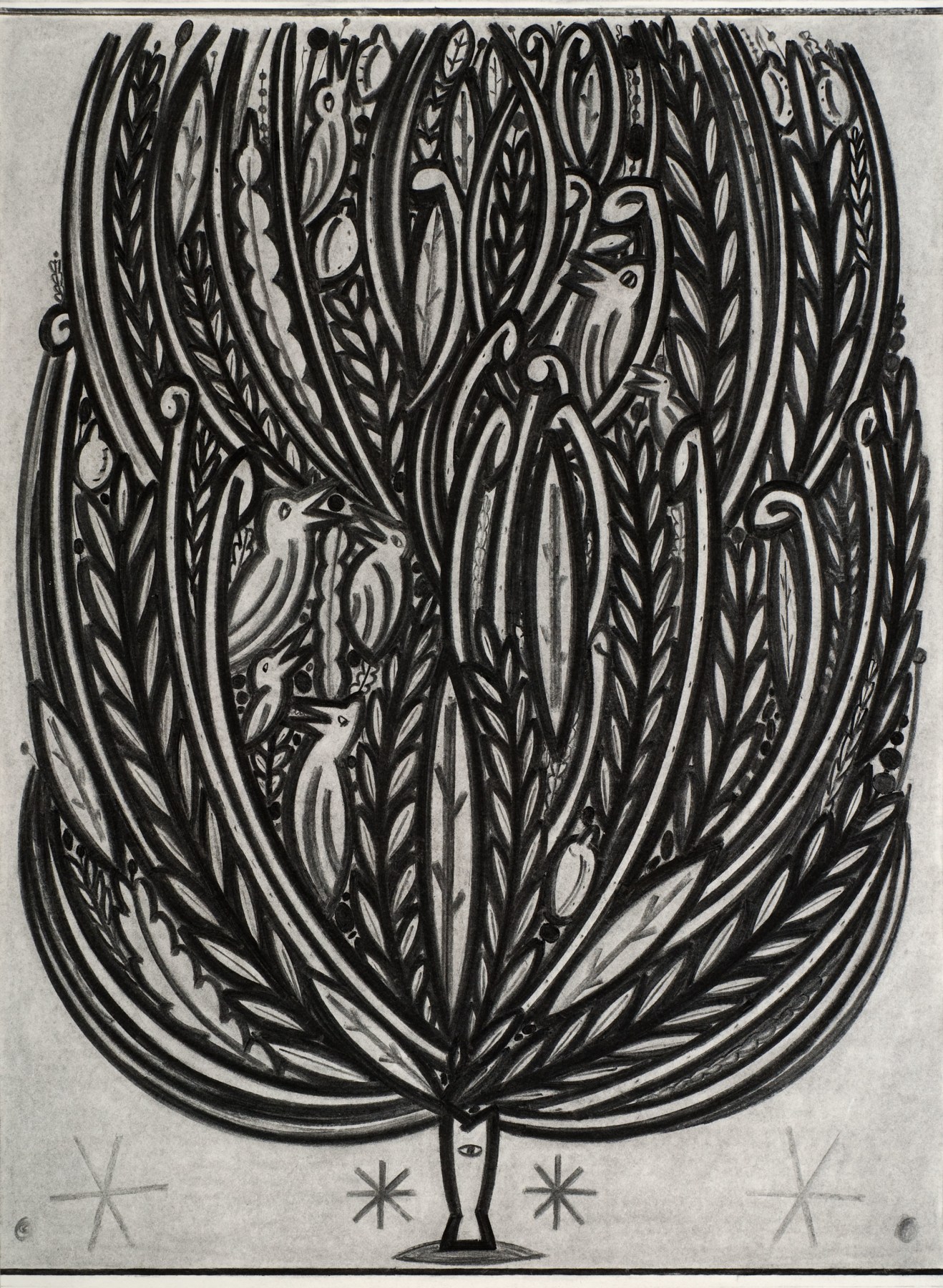 Known for stylized, precise, graphic imagery, Howie Lee Weiss's artworks have been reviewed in such publications as Art in America, The Boston Globe, The Philadelphia Inquirer and The Baltimore Sun.
Weiss's iconic drawings have been exhibited in galleries in New York, Philadelphia, Boston, and Washington, DC. His artwork has also appeared in venues throughout Italy. In Japan, Weiss lectured with the Keisho Art Association in conjunction with an exhibit that featured his extensive, free-style sketchbook practice.
In Baltimore, Howie Lee Weiss is currently affiliated with Goya Contemporary Gallery. Previously, his work was featured at the C. Grimaldis Gallery.
A professor who has influenced multitudes of students, Weiss oversees all aspects of the Senior Thesis Program at Maryland Institute College of Art (MICA), and coordinates studio programming and the Artist-at-Noon Lecture Series. Twice he has received the Trustee's Award for Excellence in Teaching at MICA. He also co-directs the MICA Summer Intensive Abroad program in Italy.
At Princeton University and the AICA New York Studio Program, Weiss served as Visiting Professor. As a speaker and critic Weiss has visited several schools, including Vassar, Minneapolis College of Art and Design, University of Pennsylvania, Moore College of Art, University of Connecticut and the Corcoran College of Art.
In addition to a focused and disciplined studio life, Weiss swims regularly, attends classical piano and opera concerts, and is a collector of vintage graphics in the form of posters and coffee tins.
A Pennsylvania native who began to draw at the age of five, Howie Lee Weiss was raised in a working-class, northeastern coal-mining town in proximity to the sophisticated, elegant vacation resorts of the Pocono Mountains. Mr. Weiss earned his MFA from Yale University School of Art & Architecture and his BFA from the Maryland Institute College of Art (MICA).