"Thread started as a curiosity and necessity. The idea of layering and working with impasto through oil moves me. I began to see thread having the same effect on a surface. This curiosity took me on another journey."
- Natasha Das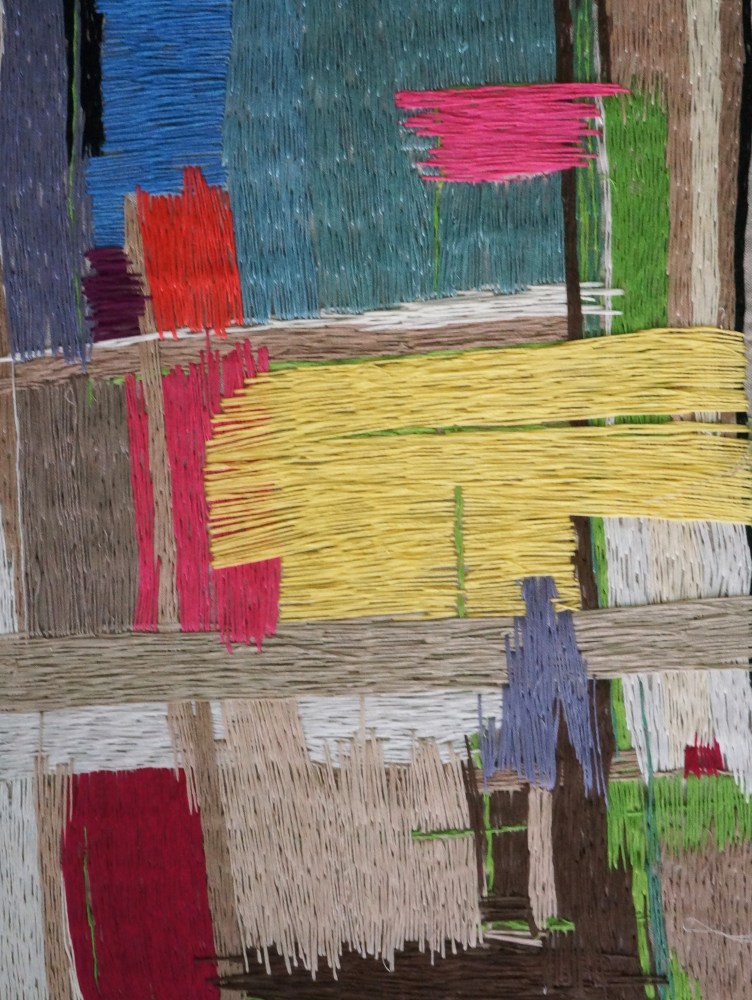 Natasha Das's work lies at an intersection of materials and methods, blurring the lines between approach and content.
Born in Assam, India and trained in Florence, Italy, Natasha is a cross-disciplinary artist working from her studios in Assam and New York City. She works primarily with oil paint and thread, layering the individuality of each material to build a surface upon which the two coexist inextricably.
Das began her career perfecting traditional portraiture, with a keen eye for color, figure, and composition. Increasingly frustrated wth the constraints of her own expertise, Das began to unlearn what she was taught, shifting her concentration to the materials themselves.
Das introduced thread into her practice after training under an exclusively male artisanal weaving group in Assam. The thread and needle process mirrored her experiences with oil but gave her newfound inspiration through its inherent tactility. The relative permanence of the sewn threads on her canvases also complements her newfound agency as an artist. She chooses where to pierce the canvas, whether that be a dry spot or one rife with wet oil paint.
Composing these hybrid pictures pushes Das to understand color and material in more chaotic ways than she had ever before thought to, creating complex aesthetic dialogues to previously unexplored means. Natasha Das is an Indian-American artist living and working in New York City.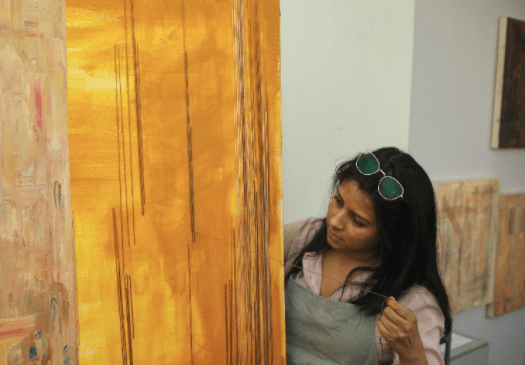 Ellipsis Q & A with Natasha Das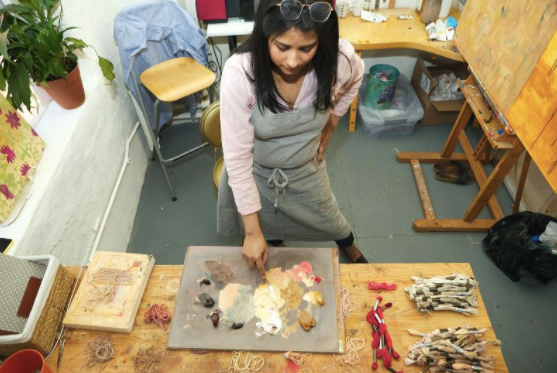 Ellipsis Art - Q & A with Natasha Das
Angelica Semmelbauer
How have you been coping with this new reality?
I think in general artists follow no structure or routine. We are isolated human beings by nature and tend to live in our own parallel universes. This new reality seems to simultaneously encourage and discourage this type of behavior. At times you can feel overwhelmed by all the familiar faces that surround you and long for alone time. At other times, even when you're around loved ones, a sense of dread and loneliness drapes over you. Isolation hasn't drastically changed my material reality in the same ways as some many others have been affected, but we all see the changes that it has brought about. Occasionally I question what exactly it is that I miss about pre-Covid times.