"Since coming to Philadelphia, I've found subject matter in the city's neighborhoods. In 2004, I began painting intensively from views offered by the Hamilton Building (of The Pennsylvania Academy of the Fine Arts), and then within classrooms and the museum cast hall itself."
"All the while, students, models and friends entered these paintings as actors in domestic dramas and mythic pageants. People appear in my pictures as specific likeness and I'm not sure whether to describe myself as a figure painter, a portraitist, a cityscape painter or a creator of visual narratives."
- Scott Noel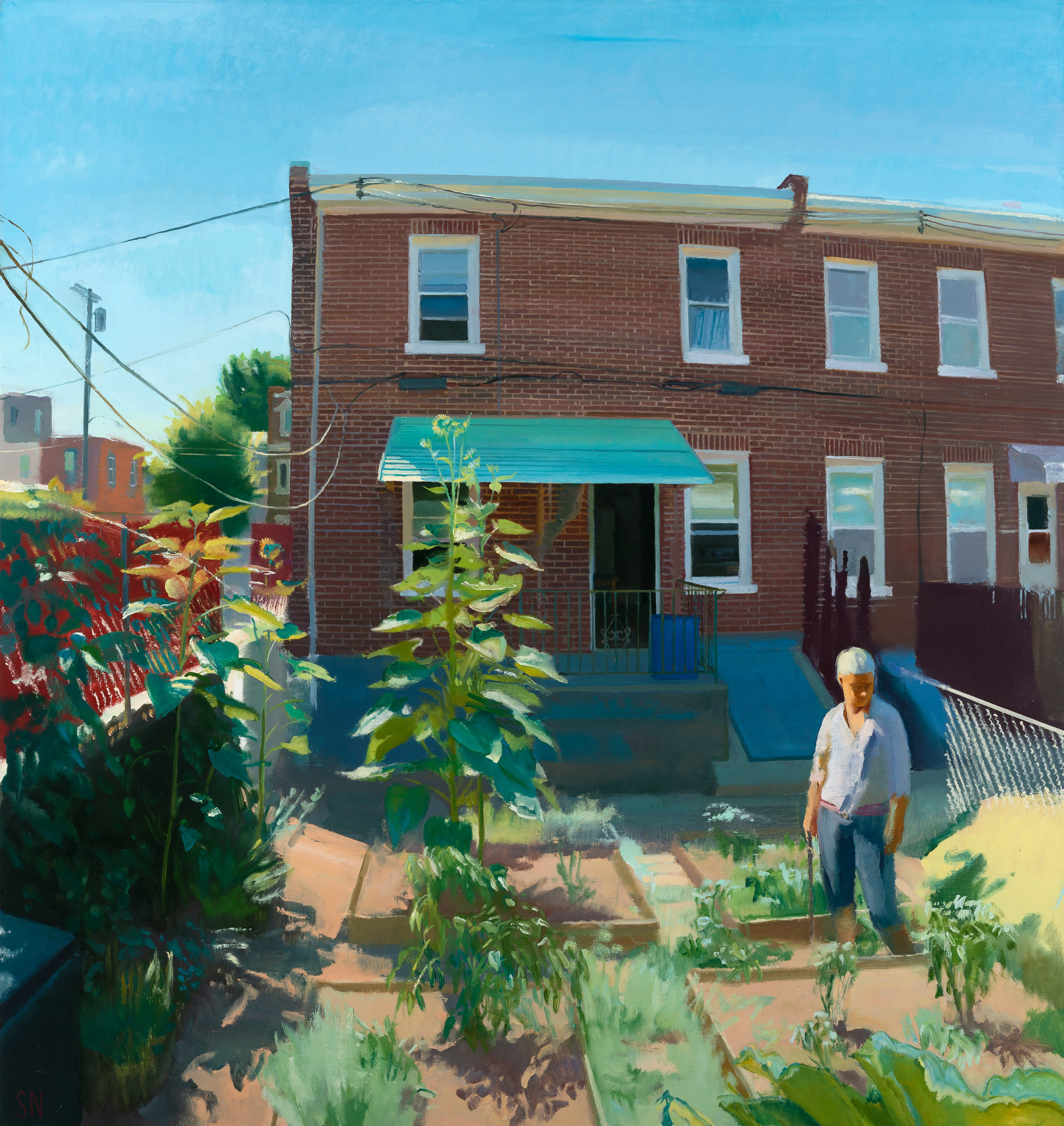 Scott Noel began teaching and exhibiting in Philadelphia in 1980, after completing undergraduate study at Washington University in Saint Louis in 1978. Since that time he has mounted over 30 solo exhibitions at galleries, universities and museums as well as many group shows. Solo shows have appeared at the State Museum in Harrisburg, the University of Virginia, the Bowery Gallery, the Painting Center and fifteen exhibitions at the More Gallery, Mangel Art Gallery and Gross McCleaf Gallery in Philadelphia.
Noel has curated exhibitions for museums, including The Evidence of the Senses at the Woodmere Art Museum in 1990 and Imaginative Affinities: Echoes of Edwin Dickinson in Contemporary American Painting at PAFA in 2002. He has also written catalog essays for peers and forbears, including Lennart Anderson, Larry Day, Rose Naftulin and Sangram Majumdar. Noel's paintings are included in numerous private, public and corporate collections. He has received grants from the Bader Foundation, the Pennsylvania Council on the Arts and the Independence Foundation as well as a fellowship to the Cité Internationale des Arts in Paris. His work has been reviewed in Arts and Art in America and he has twice been profiled in American Artist.

Noel teaches figure drawing and painting in the Certificate/BFA and MFA programs and is a critic in the MFA program. (Courtesy of www.pafa.org)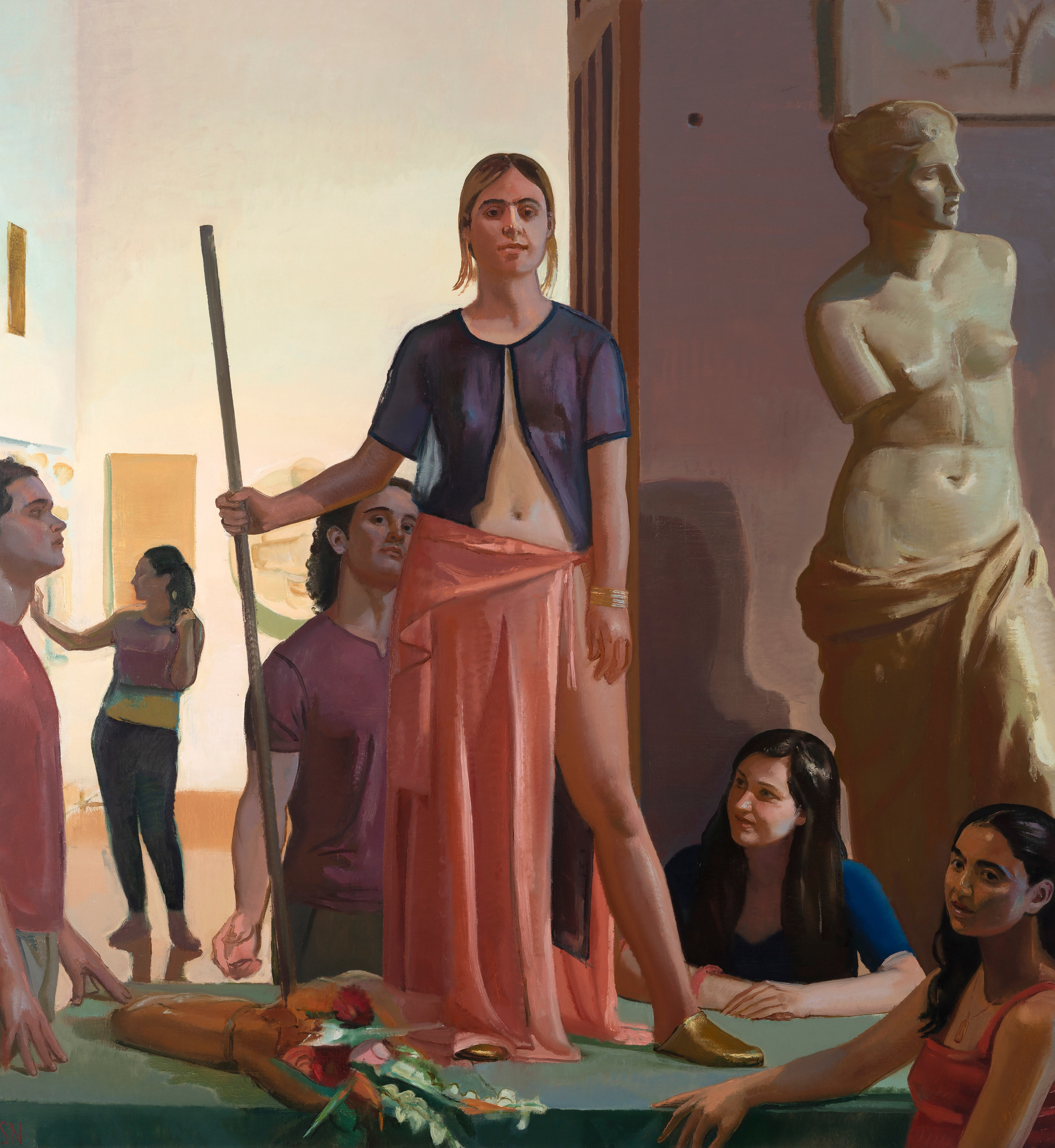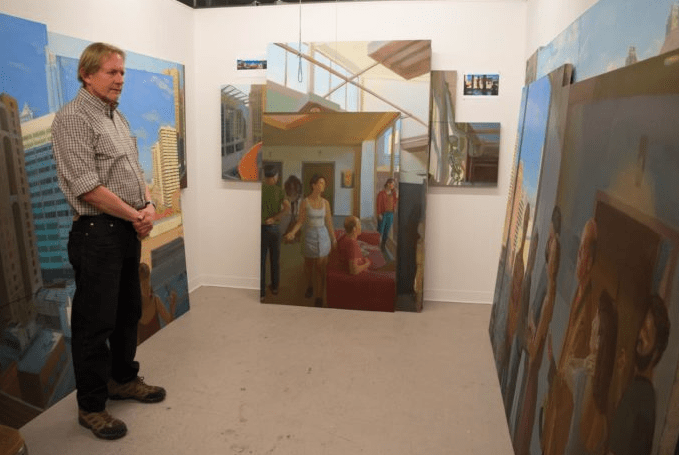 A DURABLY BEAUTIFUL WORLD: THE PROCESS AND VISION OF SCOTT NOEL
By Josiah King
2018
Upon arrival at Scott Noel's studio space at the Pennsylvania Academy of the Fine Arts in Philadelphia, I was struck by the abundance of richly painted, large-scale canvases leaning against the walls. Noel, who has been working in Philadelphia since 1978, is a prolific painter of the still-life, figure, and landscape. The artist engages in the making of images through observing his subjects directly. Many of his paintings consist of constructed narratives, in which figures are engaged in roles reminiscent of ancient mythologies. I spoke with Noel about his process and mode of thinking as he was preparing for the opening of Philadelphia, a show of his work at Gross McCleaf Gallery in April, 2016.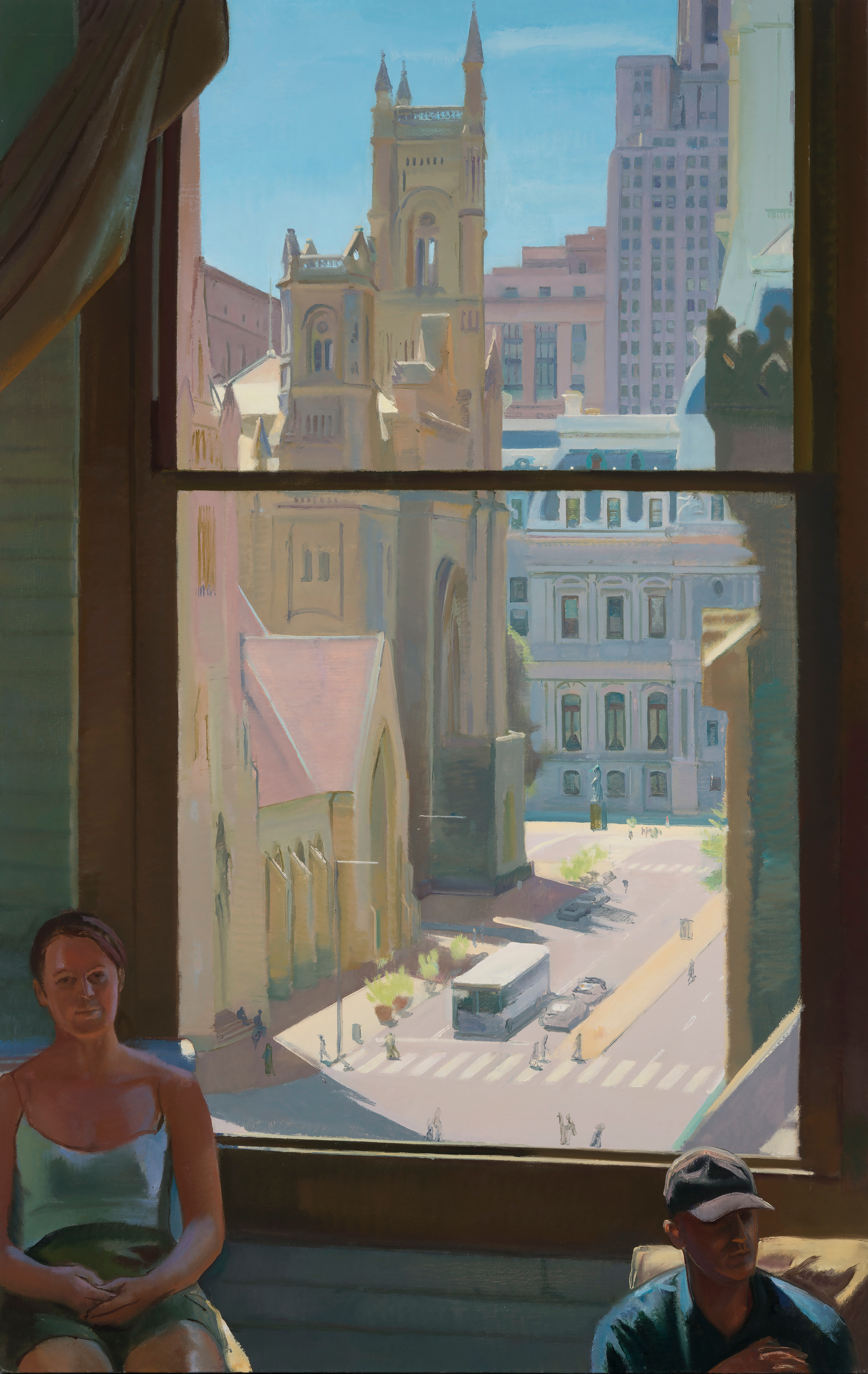 by Ephraim Rubenstein
In Scott Noel's Studying the Studio, the artist's workspace opens up before you, filled with light and air. As your eye strolls around, you sense every foot of available space in the studio. You feel how, as you enter, you must be careful to avoid the space heater and to walk around the table arranged with pots. Once inside the studio, you might move over to the right wall to examine a painting that has caught your eye, before you settle finally into the armcharis in the corner. While resting comfortably in the chair, you can stare out into the expansive cityscape, a reminder that space coninues to unfold infinitely beyond the studio's windows and that it is deeply pleasurable to have it more intimately contained in the artist's studio.
While some artists confine themselves to working in one or two genres, Noel paints in every conceivable form - interior, cityscape, still life, figure, portraiture, and narrative painting. Noel's eye is voracious, his aesthetic ambition high. If one of his life's projects has been to paint in all of these genres, another has been to combine them in such unexpected ways as to baffle the viewer's basic preconceptions about these categories. And the place that he uses as the visual staging ground for these uncanny admixtures is the studio.