"As a child I longed for light as I wandered the dark, dense woods behind our house in suburban Boston. Stone walls snaked in every direction, evidence of the early farmers need to create open space so that their crops could grow and animals graze. The Missouri family farm was and is a whole different ballgame. The long, wide, flat horizons seem to bring the sky closer to earth. The squared off order of the fields and roads give everything a kind of compositional clarity. The visual structure and intensity of the sky's light has a visual power lacking in the east. To look up and be startled by a quickly approaching dark purple thunder storm, the soft pinks and yellows of a winter sunrise, or a swarm of cliff swallows feasting on a new hatch of mayflies above the Missouri River is to feel connected to the larger world. These paintings are a celebration of those and other joys."
-Max Mason III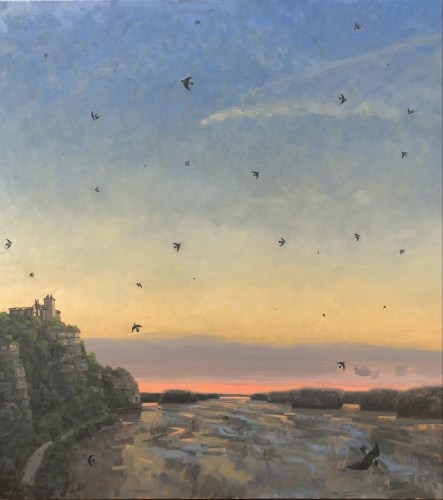 A sense of wistful longing and childlike wonder can be found in Max Mason's landscape oil paintings, depicting mid-Missouri vistas. Well known for his baseball-themed works, Mason has shifted to another quintessentially American subject - the family farm. Mason's family farm is located in western Missouri, where he spent his summers as a child. He returns frequently to experience the gently rolling plains, rushing turbulent rivers and dramatic storm clouds that grace his expansive landscapes.
Many of the paintings are dedicated to the large, Midwestern sky, which often takes up more than two-thirds of the canvas. Each work creates a unique mood. Mason uses his expressive brushwork to depict specific, sometimes nameable cloud formations, as well as the transient moment when early evening light disappears into night. The artist's brushstrokes bounce and curve to create form; they churn and swirl to depict an approaching storm, and they stretch above the viewer to create a canopy of lights and shadows. Long country roads lead toward the horizon and beyond, inviting the viewer into the painting and into a lush, rural world.
Max Mason grew up in Lincoln, Massachusetts. After graduating from Vassar College with a degree in Geology in 1975 he came to Philadelphia in 1981 to study at the University of Pennsylvania with landscape painter Neil Welliver. He is represented by the Gross McCleaf Gallery where he has shown his landscape, still life and baseball paintings since 1985.