"It's people and their faces that spark my interest, closely followed by color, pattern, and texture."
- Mickayel Thurin
Mickayel Thurin has developed a new and distinctive combination of materials in her latest exhibition of work, titled Awakening. Acrylic paint, yarn, thread, ink, and patterned fabrics create surprising juxtapositions between textured shapes and painted, collaged imagery. In each picture, a central figure is revealed from within this jubilant visual activity as narrative connections emerge. Thurin's painted subjects appear contemplative and aware. Some engage the viewer through direct eye contact while others take on a more introspective posture, their gaze downward, seemingly absorbed in their own story.
Driven by her interest in people, Thurin began drawing family members from photographs at a young age. The human face is Thurin's chosen subject, but she has other artistic concerns that drive her practice. She says, "It's people and their faces that spark my interest, closely followed by color, pattern, and texture."
As her practice continued into adulthood, she started working with live models and realized portrait painting provided a method of seeing beyond physical appearances, allowing for a better understanding of the inner nature of her sitter. Throughout the painting sessions, the artist utilized conversation to cultivate an intimate connection. Thus, Thurin's artistic decisions have been inspired and directed by the sitters' experiences.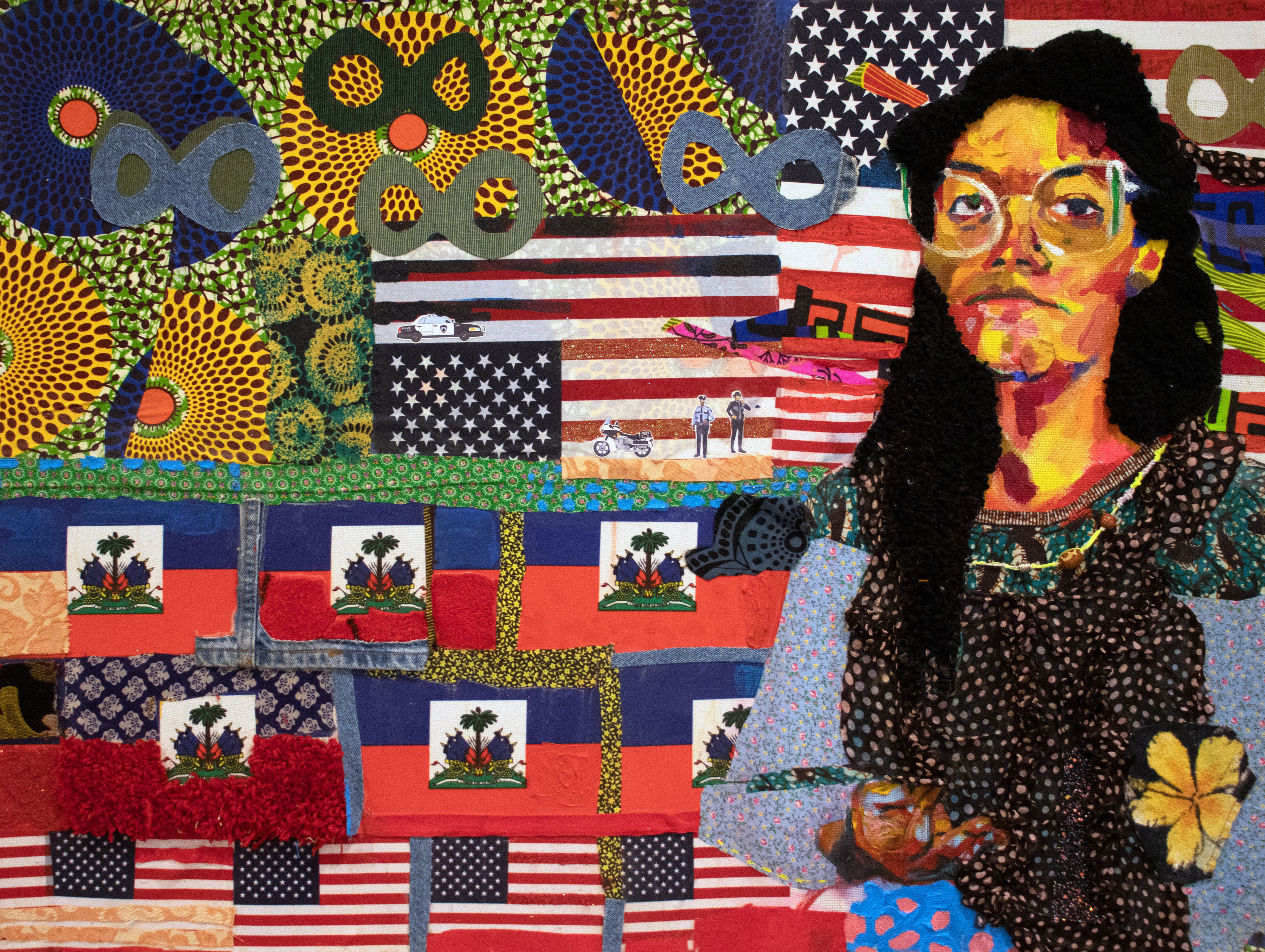 Thurin considers this latest body of work an "homage to 2020-2022" in which she unpacks her personal experiences from that period. She says of these recent paintings, "Much of this subject matter is based on experiences during the last few years that needed to be expressed." These works depict the artist's meditations on trauma, social injustice, politics, mental health, and spirituality. Thurin and the models often discuss these subjects during portrait sessions, and the resulting works are a synthesis of the artists' and sitters' vulnerable expressions of internalized trauma and acts of self-care.
Mickayel Thurin is a Haitian American artist who grew up in the Mid-Atlantic region. She completed a four-year certificate and BFA in a joint program through the University of Pennsylvania and the Pennsylvania Academy of the Fine Arts. Thurin is the founder and executive director of Seen Heard Connected, a nonprofit organization bringing awareness and financial assistance to marginalized people. Three portraits and audio recordings of interviews from the Seen Heard Connected program are part of Awakening. Thurin lives and works in Philadelphia with her husband, fellow artist Benjamin Passione, and their son, Maurice. She is represented by Gross McCleaf Gallery, and this is her second solo show.