"Hierarchies of scale, perspective, and meaning occur in all my work."
- Alexandra Tyng
In my figurative paintings I create stories about human relationships that are partly from experience, partly from imagination. The characters in these stories are family members and friends. My symbolic language is drawn from objects, creatures and places of personal significance, and from archetypes in dreams, mythology, alchemy, and fairy tales. In the process of creating these paintings I dig down beyond the initial idea, uncovering deeper levels of meaning until I am within reach of its essence.
My perspective the landscape my perspective ranges from ground-level views that are specific, and intimate, to panoramic aerial views that show the overall picture, and the spatial and abstract relationships between land and water. Each change in perspective requires a change in scale that in turn invites a new level of understanding. Places that feel special and unique when seen close up become dwarfed by the immense geological formations when viewed from the air.
Time is expressed fluidly. I believe that a given time contains the germ of the future, but we cannot understand it fully until it reveals itself, and the past is accessible through memory. In my figure paintings, situations that developed over many years seem to happen in a single moment. People who lived in various time periods appear alongside each other, or a single person may appear a painting several times at different ages. My landscapes capture a single time while reflecting the passage of time. In our lifetimes we experience Earth not only as solid and reliable, but also as unbearably fragile as ecosystems and geographical features undergo change.
Alexandra Tyng (b. 1954 in Rome, Italy) paints large realistic figurative works infused with symbolism and imagination. She also paints aerial landscapes and portraits. After graduating from Harvard University with a BA in Fine Arts, she earned an MS in Education from the University of Pennsylvania. She has lived most of her life in the Philadelphia area, and spends part of her summers painting in Maine. To date, Alexandra has had thirteen solo exhibitions, the most recent in September 2019 at the Dowling Walsh Gallery in Rockland, Maine. Three of her paintings have traveled with the Women Painting Women: In Earnest museum show curated by Alia El-Bermani and Diane Feissel. She has received numerous national awards, placing 1st twice and 2nd once in the Portrait Society of America's annual competitions, and Best of Show at the Lore Degenstein Gallery's 8th Annual Figurative Painting and Drawing Exhibition in 2016; the Plein Air Magazine Award in the ARC 2015 Salon; and the Curator's Choice Award in America's Parks I, a traveling museum exhibition.

Alexandra's work has appeared in two books in the series on Maine art by Carl Little and David Little: Art of Monhegan (2006), and Art of Acadia (also cover art, 2016); and in 21st Century Figurative Art by Jan Esmann (2016). Her work has also been featured in such periodicals as American Arts Quarterly, Plein Air, ArtNews, Fine Art Connoisseur, PoetsArtists, International Artist, Maine Boats Homes and Harbors, and American Art Collector; and online publications including Painting Perceptions and The Huffington Post. In 2019 she participated in Studio Incamminati's The Higher Aim of Art Lecture Series with her talk "Visual Storytelling." In 2012 she was interviewed by art historian and editor Peter Trippi as part of the Artist Audiocast Series sponsored by the Newington-Cropsey Cultural Studies Center. Alexandra's paintings reside in the permanent collections of the National Portrait Gallery in Washington D.C., the New Britain Museum, the Springfield Art Museum, and in many corporate, university, and other public and private collections. Alexandra is represented by Gross McCleaf Gallery in Philadelphia, PA; Dowling Walsh Gallery in Rockland, ME; and gWatson Gallery in Stonington, ME.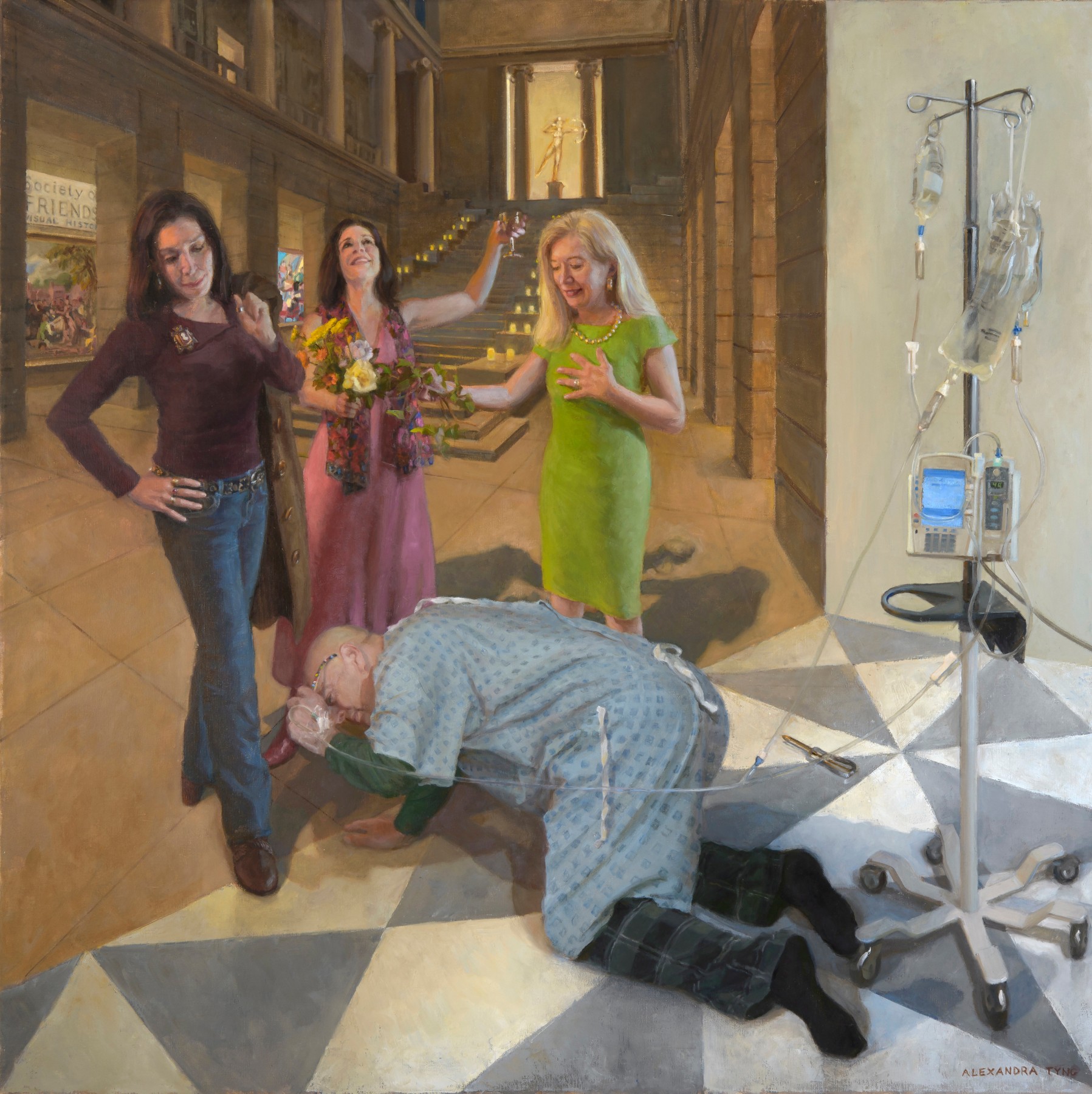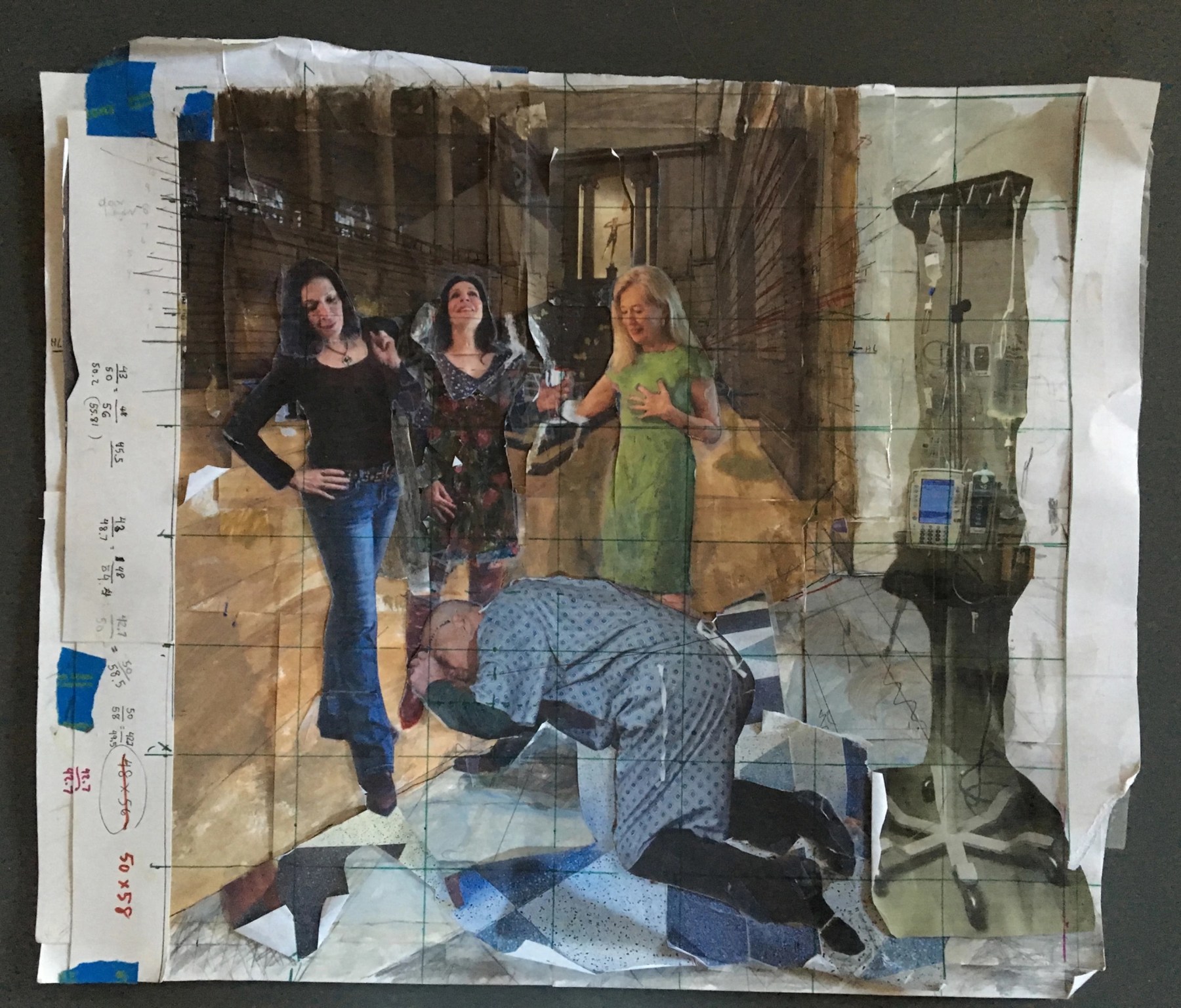 Connecting and Creating in Isolation
Portrait Society Of America
by Alexandra Tyng
Within a few weeks in March, 2020, my life, your lives, and our world changed dramatically. Many people lost their lives. Many of those who were fortunate enough to continue living ironically lost their means of "making a living." As a painter of multi-figure paintings and commissioned portraits, I suddenly found myself isolated from other people. Initially, I wondered if I would lose my ability to help support my family by making and selling my artwork, but I gradually discovered new ways of connecting with people and thereby continuing to create the kind of paintings that give me joy.
As COVID first appeared in the U.S., I was composing a multi-figure painting entitled The Architecture of Connection. A friend of mine had had a vivid dream that he thought would translate well into a painting. I was intrigued by the idea and I set to work making preliminary sketches of the composition. In the dream, a reunion of high school friends is happening at the incongruous juncture of two atriums of two separate buildings—the hospital and the Philadelphia Art Museum. The dreamer, dressed in a hospital gown, is crawling on hands and knees towards three beautiful women, former classmates...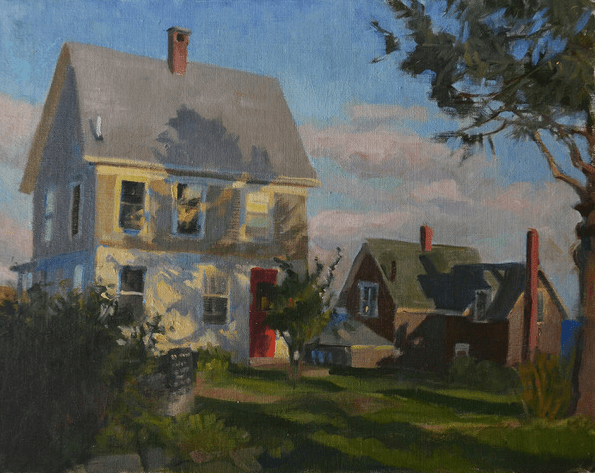 "The Maine Event" at Gallery222 Malvern"
February 2020
Gallery222 Malvern recently announced "The Maine Event," highlighting all aspects of the scenic state of Maine.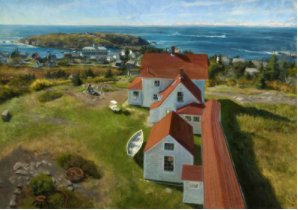 The Thoughtful Art of Alexandra Tyng
Newington-Cropsey Cultural Studies Center
by Stephen May
Words that come to mind when thinking about the art of Alexandra Tyng: intelligence, knowledge and talent; or perhaps independence, perception and determination. Tyng, 58, stands out among contemporary representational painters for her comprehensive grasp of art history, and for the inquiring mind that infuses her compositions. A mature artist at the top of her game, she knows what she wants - and how to achieve it in paint. Tyng reached her current confident, accomplished style by unconventional means, shunning art school and bucking the tide of Abstract Expressionism is the 1970s by becoming a realist painter. She learned traditional oil painting methods by examining the works of old masters, reading about techniques, styles and materials used by other artists, and observing artists at work. Today she is known for her figurative paintings and landscapes of Maine and elsewhere, and portraits painted in her studio outside Philadelphia. Preeminent Maine art writer Carl Little has observed: "Tyng is equally comfortable - and accomplished - in landscape and portraiture, which makes her something of a rarity among contemporary artists. She even dares to combine the two, setting figures in her views, inviting us to consider how person and place fit together (and they do, splendidly)."